Our colts are imprinted at birth and handled daily making them exceptional animals that are extremely calm and easy to handle from a very young age. We spend more time with our foals than we ever recoup with their sale price but we absolutely love producing and training phenomenal foals. They receive the best possible start and you will never meet friendlier babies with better manners than ours. We believe when we expose them to everything at a young age they become compliant friendly animals that can handle any situation. Furthermore the genetics and breeding of each and every one of our animals is world class. We have three exceptional foals born in 2018 and we will have many more by our jack Judah next year.
June Bug- $3,000

 Foaled 5/26/2018
Sire: Clyde's Gallant Fox
Dam: Secret Blanca Jewel Appaloosa Horse Club# 676577
June is a lovely sorrel appaloosa molly mule sired by our lovely foundation few spot appaloosa mare Nova and the famous champion jack Clyde's Gallant Fox. This molly mule filly came out of the womb friendly and drop dead gorgeous.  Her markings are unique and absolutely beautiful, she is very athletic already, and has a great conformation.  Her disposition is lovely and she has been handled daily since birth.  When she is weaned and ready to go to her new home she will load in a trailer, pick up her feet nicely, be halter trained, and pony.  She will be desensitized to multiple stimuli and be a friendly calm foal.
Her sire Clyde's Gallant Fox AKA Ted has now won NASMA High Point Open Donkey SIX times! He is a THREE time High Point Winner at Bishop Mule Days and holds Superior titles in EIGHT events! In 2016 he was inducted into the Bishop Mule Days Hall of Fame. He also earned a Reserve World Championship at the 2015 Western Dressage World Show competing against horses! In 2015, He sired the NASMA High Point Junior and Halter Mule and also Grand Champion Halter mules at the National Western, Houston Livestock Show, Congress and The Great Celebration in Shelbyville, TN.  He has produced multiple show winning mules and donkeys with refinement, athleticism, and excellent minds.
June's dam Secret Blanca Jewel AKA "Nova" is a sorrel fewspot who is 90% foundation and FPD eligible. The pedigree on Blanca is a strong one, going back to great foundation horses such as Colida, Prince Plaudit and more modern show horse lines such as Dreamfinder, The Secret and Charicature.  She is also a very calm mare with a lovely disposition that does not fall into the normal crazy appaloosa stereotypes.  She is very easy to handle and loves people which is key in producing a friendly foal.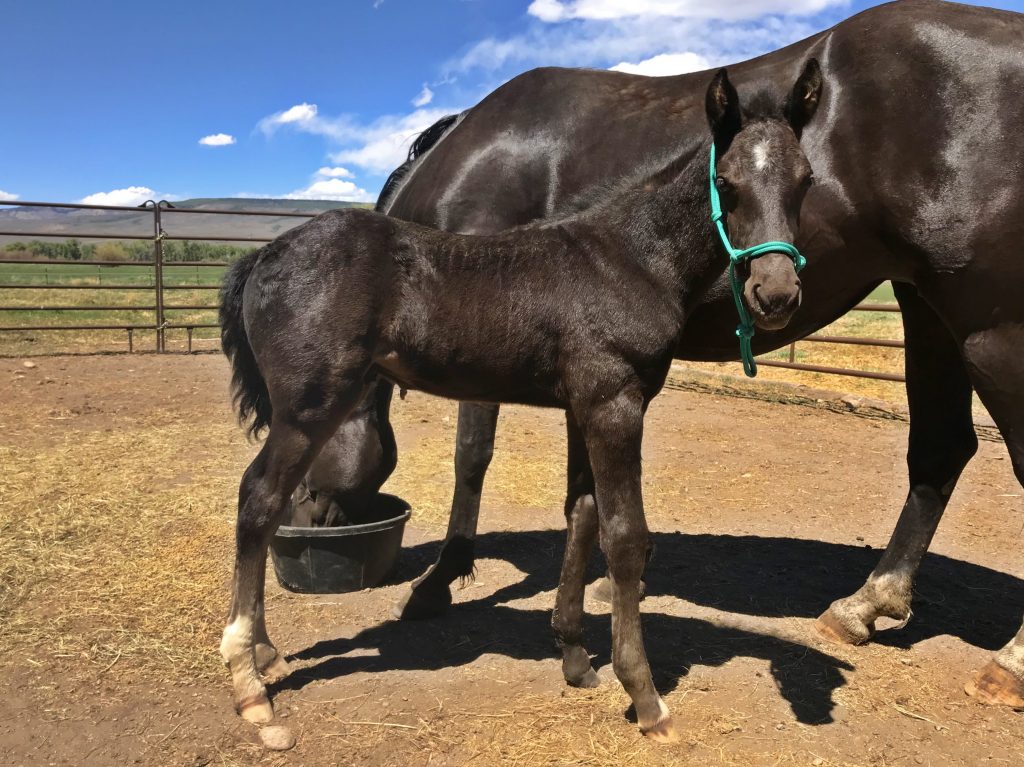 Sundown Shadow- $3,000

 Foaled 5/4/2018
RMHA# Pending

Sire: Sundown Cowboy RMHA#1999006378
Dam: RPM'S Doublelicious RMHA# 20081007925
Shadow is a lovely black Rocky Mountain colt with exceptional breeding and beautiful markings.  He has three white socks and a star.  We are having him color tested to see if he is a smokey black like his mother.  His dam is out of Double Take by Yankee Clipper. Since her dam is a daughter of Maple's Squirrel, and her sire is a son of Yankee, Doublelicious is a double great granddaughter of Tobe, she has a very RARE pedigree! Other notables in her pedigree include Cheek's Rocky, Choco Dock, King Tutt, Honey, Black Squirrel, Bay Beauty, & Dot-O-White. His sire is a son of Spanish Sundown, out of a Rocky Mountain Rogue(Johnson's Tobe X Foxie Roxie) mare.  Cowboy's 2007 son, TOO MUCH is a breeding stallion in Switzerland producing fine Rocky/Kentucky Mountain Horses of all color in Europe.  Shadow was imprinted directly after birth and has been handled daily.  Like all our foals he will be halter broke, pick up his feet, load in a trailer, he with pony, and he will be very friendly and desensitized to many stimuli by the time he is weaned and goes to his new home.
Cherokee Thunder- Not for Sale

 Foaled 4/29/2018
MFTHBA # Pending

Sire: D.M.'s Cherokee Witch Doctor MFTHBA #01-67816
Dam: Sure Luck's April Flower MFTHBA #14-99742
Thor is a absolutely stunning blue-eyed bay tobiano colt was sired by D.M.'s Cherokee Witch Doctor and our gorgeous mare Sure Luck's April Flower.  His markings are stunning and he is already gaiting in the pasture.  His sire Cherokee is 16.1 hands, solidly built, extremely athletic, beautiful, very gaited, and is also one of the most gentle stallions you've ever met! He produces spotted foals every time, as he's  homozygous tobiano! He was also named one of  the top five sires by MFTHBA in 2017.  His dam is 15hh, one of the  sweetest animals on the ranch, beautifully gaited, calm as can be, and as lovely as they come.   Thunder was imprinted at birth and is being handled daily.  We had this colt color tested and he is homozygous tobiano like his father!  He is heterozygous agouti and carries the red gene so he will be able to produce a multitude of colors in his offspring, all of which will be spottted.  We are retaining him for our breeding program and we are very excited for the future of this stunning colt.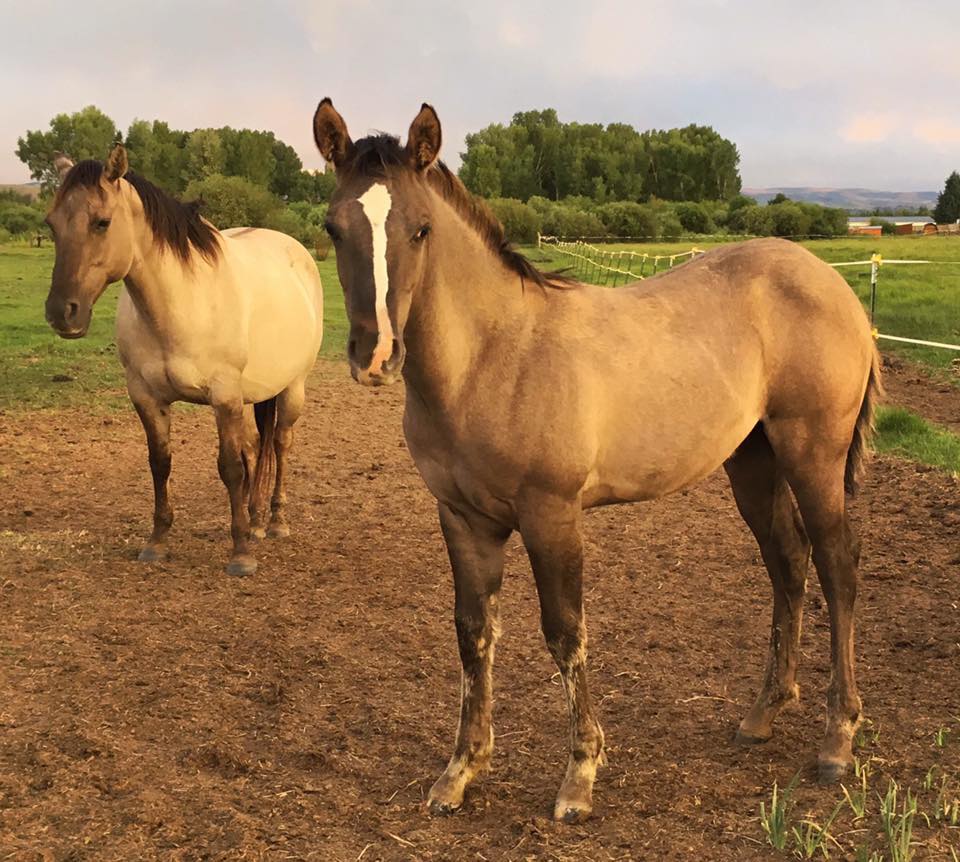 Silver Aria -SOLD to Nelson Hest Gard ranch in Oregon!
 Foaled 3/19/2017
ApHC #683068
Sire: Maumin Boss Hoss ApHC #658670
Dam: Amadeys Sukia AQHA #4899415
Aria is a gorgeous grulla filly that was imprinted at birth and handled extensively. She is gregarious, adorable, and a love bug. She is already very athletic, has a gorgeous hip, she is built very solidly, with great bone and muscle tone. She will be registered with ApHC before she is weaned. She is a lovely mover already as well and she loves to run , jump, and she turns on a dime. Aria's sire is 83% foundation with a pedigree going back to Bandido Bar, Freckles Bandit, Prince Plaudit and Mighty Bright. Her dam is beautiful '06 foundation bred AQHA mare who is silver grulla! Her dam has Poco Bueno breeding and she is homozygous dun! Both her dam and sire have wonderful dispositions and that is already evident with Aria. Aria is heterozygous for PATN1, heterozygous dun, 5 panel n/n, and heterozygous for red/black. This filly will be a great asset to your breeding program or a stunning riding and show prospect. She should mature to around 15hh as both her sire and dam are 15hh. Contact us to place a deposit on this gorgeous girl. She will be available to take home when she is weaned at 4-6 months old.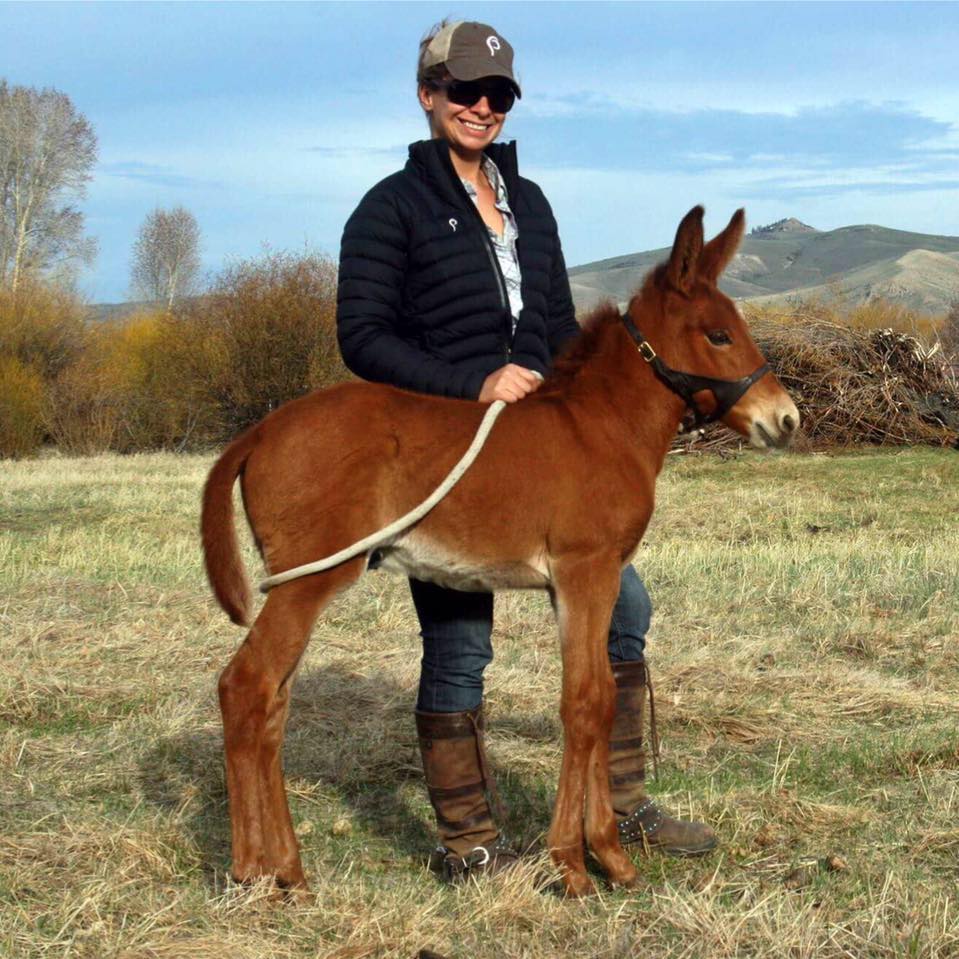 Olan's Finnegan -SOLD to the Duff family in Tennesee!
Foaled 4/25/2017
Finn is a gorgeous sorrel john mule colt with a star, dun stripe and shoulder cross. He was imprinted at birth and has been handled daily. His sire is the famous mammoth Jack Olan and his dam is my draft/quarter horse mare Fiona. She is the most versatile horse I have ever owned. She rides bareback, English, Western, jumps, packs, and ponies, and has helped me train many animals. She is very solidly built at 1,500lbs with excellent conformation, mind, and disposition. She is also very cowy so this little guy is a great ranch prospect. His dam is 15.1hh and his sire is just shy of 15hh so he should easily mature over 15hh. Finn already is leading well, he picks up all four feet, and loves people. He has received the handling to make him an incredible mule. There is nothing like raising you own animal for having the ideal partner for life.

Lyra's Golden Comet -SOLD to the Timian family in Minnesota!
Registration pending
Foaled 5/19/2016
This gorgeous Rocky Mountain palomino filly has been imprinted at birth and is being worked with daily!  Her dam is
RMP's Doublelicious
AKA Cinder and her sire is Comet's Total Image AKA Brick.  Lyra has been color tested ee Aa nCr and does not carry the silver gene.
Brick is a gorgeous palomino stud with a very natural gait, amazing disposition, and he passes that onto his foals.  Our filly Freya's Silver Comet is also out of Brick and she is just incredible. Her breeding is exceptional and includes lots of Tobe, Maple Squirrel, and Buddy Roe just to name a few.  Both her dam and sire are exceptionally level headed and calm as well as drop dead gorgeous with impeccable conformation and great feet.  Lyra is already gaiting and her markings and color are to die for.  She has a beautiful blaze like her sire and a sock on her left rear leg.  She is already a little love muffin and she loves people.  Her sire is 15.2hh and her dam is 15.1hh so we expect her to mature over 15hh.    This filly will be for sale at weaning at which point she will be halter broke, load in a trailer, pick up her feet, will have been ponied, stand tied, will lead well, and almost anything else you ask for that a weanling could be reasonably expected to do.  You can
contact us
and put a deposit down or pay for her to hold her until weaning.  She will be well socialized, exposed to animals, machinery, people, and lots of stimulus.  She will also be registered with the Rocky Mountain Horse Association and will qualify for multiple additional registries.  We train our babies right off the bat to respond to pressure, tolerate clippers, loud noises, plastic bags, being touched everywhere, and anything and everything that may make them nervous.  This filly is exceptional and will make an amazing riding and/or brood mare.  We are already head over heals for this girl so we will be picky and only sell her to her forever home.