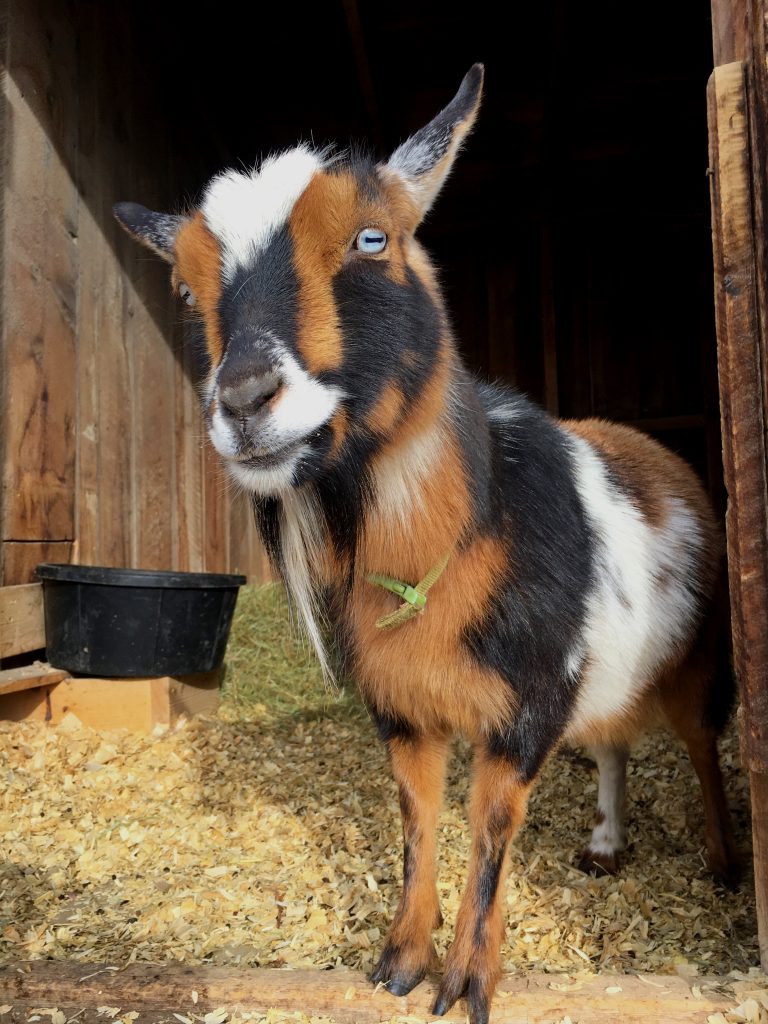 Wild Columbine Athena
Athena is a stunning blue-eyed mahogany buckskin with white, a white poll, and frosted ears.  She comes from excellent milking lines and she is very friendly.  He owner did not want to sell her when we were buying our herdsire and it took a lot of convincing to get her to sell us this gorgeous girl as well.  Wild Columbine had her mother, sibling, and offspring on sight and they were beautiful as well.  She has been bred by our herd sire Patchouli and she will definitely be producing some gorgeous kids. She is due in May and you can put a deposit down with us to have first pick on any of our kids.
Wild Columbine Lily Pond- AKA Magpie
Maggie is a lovely gold roan with minimal white doe with frosted ears.  She comes from great milking lines.  She was bottle raised is an exceptionally friendly girl.  She adores people and loves to jump up on you like a dog and wag her little tail.  She loves being petted, she loves to play, and she has the most funny, adorable personality imaginable.  She is bred to our herdsire Patchouli and will likely have the friendliest kids as the kids take after their mother.  Everyone that visits the ranch loves this sweet little doe.  She belongs to Paul's daughter Raven and has visited out local nursing home when she was young.
Magic Apple DS Fiesta- AKA Janice
We purchased Janice with her daughter Blondie as our first two goats.  She is a lovely Swiss marked doe with minimal white, frosted ears, and a white poll.  She comes from exceptional milking lines and has a fantastic udder.  Janice produces copious amounts of delicious milk and we fell in love with Nigerians starting with her and her daughter.  She is friendly, beautiful, and has fantastic milk.  She had four kids the season we bought her and produced so much mile she had no issues raising all of them.  We can't wait to see what she produces for kids in May with our herdsire Patchouli.
Wild Columbine Patchouli- AKA Stinky Pete

Pete is a beautiful chocolate blue eyed buck with minimal white that produces gorgeous kids.  He is friendly, he comes from excellent milking lines, and he is simply gorgeous when he has not been in with several other billys that were all in rut.  We purchased him from the same ranch we bought Athena, Magpie, and Jewel from.  We instantly liked him when we first saw him but we weren't in the market for a billy at that point.  We had delusions that we would take our girls somewhere to be bred but we've since realized it is much more practical to have our own billy.  When we picked him up he was beat up and incredibly smelly from being in with several other billies.  Luckily we had seen him prior to the rut and he was magnificent.  His offspring that were in site we lovely and shared him same loving personality.  He is gentle with our girls and we can't wait until the rut is over so we can give him a bath and get some decent pictures of him.  He definitely earned his nickname stinky Pete.
The Sweet Pea Russell-AKA Blondie

Blondie is the lovely gold and white daughter of Janice.  She turns nearly white in the winter but in the summer she is a lovely golden color with lots of white.  She comes from excellent milking lines and she is gregarious, friendly, and beautiful.  She was one of our fist two goats and received a lot of love, handling, and lap time.  He mother produces the tastiest milk imaginable and we can't wait for her first kids with out herdsire Patchouli in the spring.  She is sure to have some gorgeous kids.  We hope they inherit her sassy, loving, and playful personality.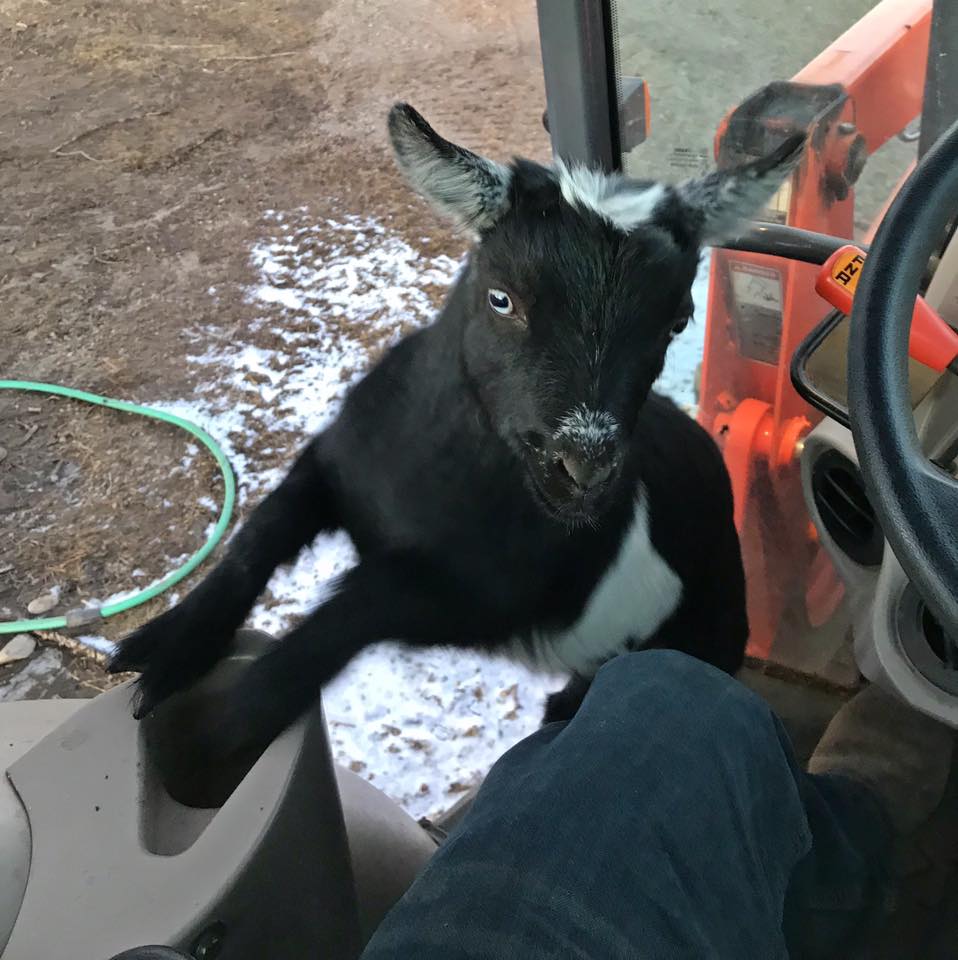 Wild Columbine Jewel
Jewel is tied with Magpie for the sweetest, more gregarious goat on the ranch.  She is a lovely blue-eyed black and white doe with a white pole and frosting.  She comes from excellent milking lines and loves people.  Even though she is one of our smaller does she is the fearless leader who is in charge of goat adventures around the ranch.  She wants to be a part of everything going on and she is into everything.  Because she is so sweet and lovable she visited out local nursing home with Magpie this spring.  She has been exposed to our herdsire Patchouli and is sure to have some incredibly sweet and beautiful kids.