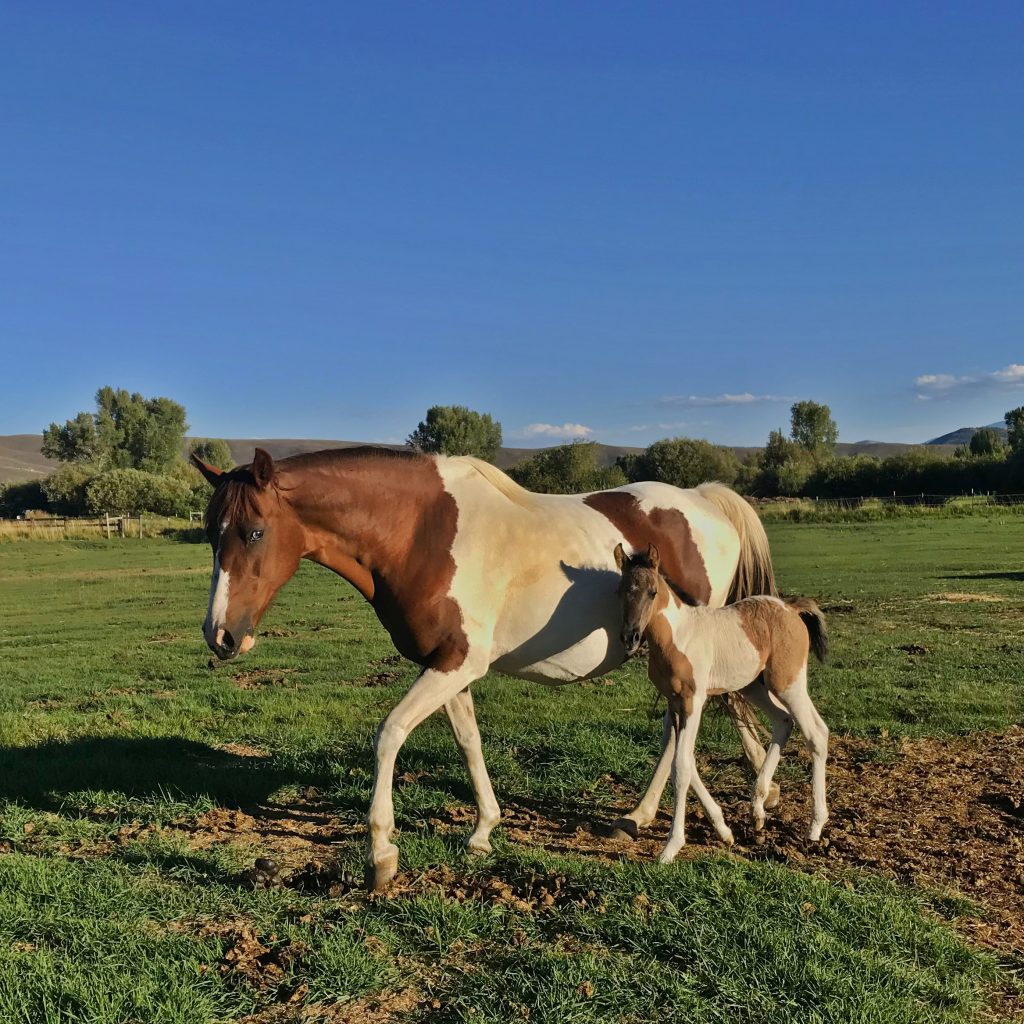 Friday's Thundering Spritz

MFTHA Registration # 02-73943 Gold Papered
Sorrel Tobiano Fox Trotter Mare
This stunning chestnut tobiano mare with unique blue and brown eyes is a wonderful trail mare and mother.  Her disposition is so calm and sweet and her foals inherit her awesome nature.  She is very well bred and has raised 4 awesome foals.  She is lovely under saddle and has wonderfully smooth and correct gaits.  He foal Scout by our stud Dunny is one of the nicest colts we've ever had the pleasure of raising and he was sold within a week of being born.  He is a grulla tobiano and the perfect combination of his dam and sire and was gaiting the day he was born.  We will be breeding Friday back to Dunny this spring for a 2019 fox trotter foal.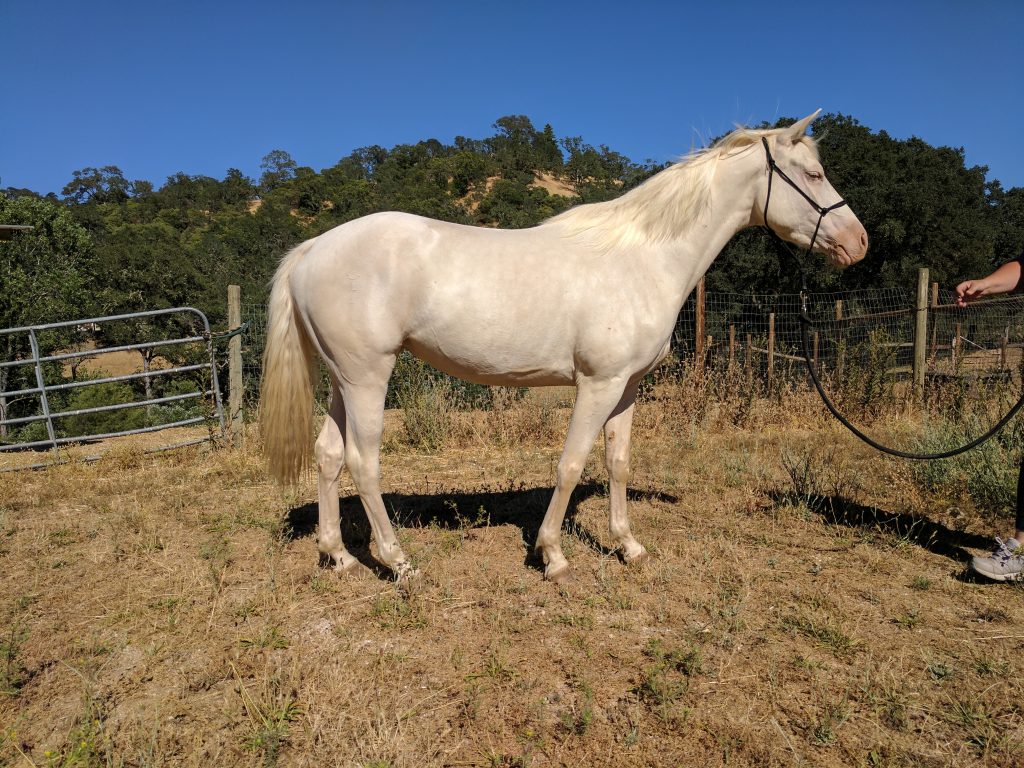 Gentleman Jim's Shasta

Cremello Foxtrotter Mare
This stunning filly is the newest addition to our gaited mule breeding program.  Shasta has a natural free flowing gait and calm disposition. This Southern Sunrise granddaughter has an excellent pedigree, superb conformation, and a lovely disposition.  She is started under saddle and has been quiet, extremely light, and quick to learn in the arena and on the trail. This 3 year old filly has classy conformation and will fill out beautifully as she matures. She will make an excellent show prospect and if she is bred will always produce colored foals (palomino, buckskin, smokey black, cream). We  bred her to our homozygous dun fox trotter stud Dun Got It All for a spring 2019 fox trotter foal.  This foal will be a dunalino, smokey grulla, or a dunskin.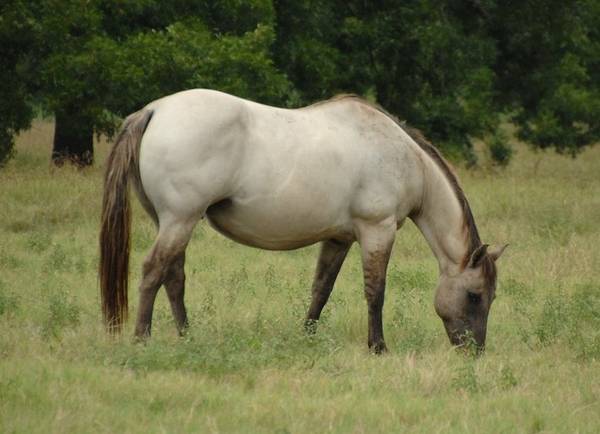 Amadeys Sukia  "Silver"
Silver is a beautiful '06 foundation bred AQHA mare who is silver grulla! Heavy Poco Bueno breeding and homozygous dun! This mare is a proven producer and 5 panel n/n.  Silver not only comes by a great pedigree, but she is a big mare with great confirmation, nice bone and feet. This gal has a great disposition she passes on to all her foals as well. She is an easy keeper, an easy breeder and gets along well with everyone in her pasture.  Standing 15 hands. She had a lovely grulla appaloosa filly in 2017 by the Appaloosa stallion Maumin Boss Hoss. We started her under saddle and she has been one of the easiest horses to start we have ever trained.  She is so calm and easy going and she passes her disposition onto her babies.  We bred her to Judah this year and she is confirmed in foal for a mule foal spring 2019.  We would consider selling her in foal for the right home and offer.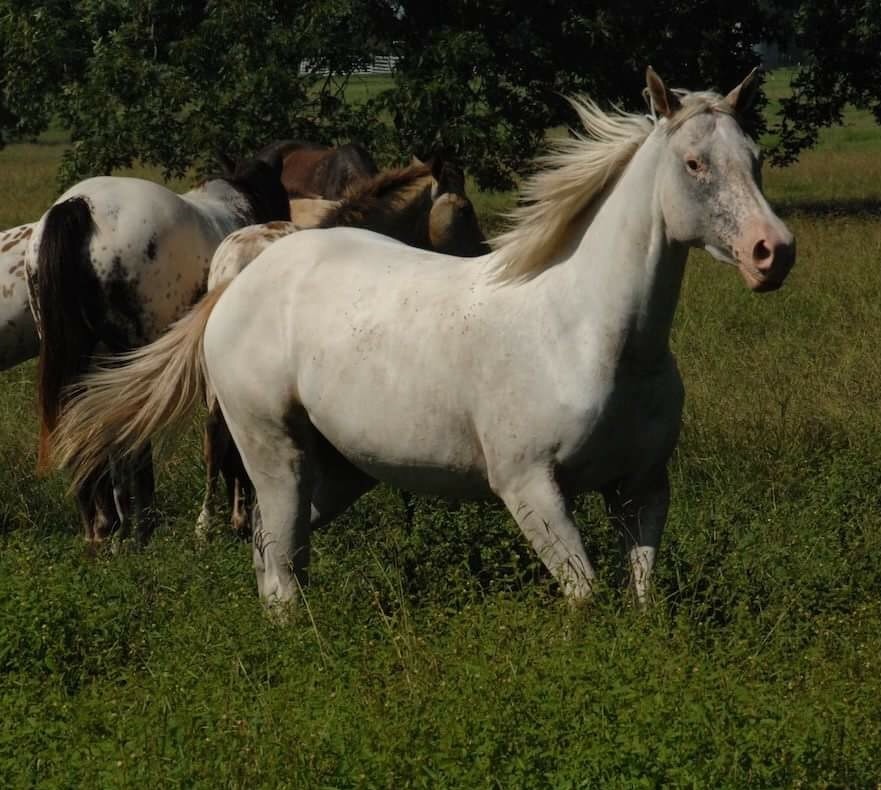 Secret Blanca Jewel
Secret Blanca Jewel AKA: "Nova" is a sorrel fewspot who is 90% foundation and FPD eligible. The pedigree on Blanca is a strong one, going back to great foundation horses such as Colida, Prince Plaudit and more modern show horse lines such as Dreamfinder, The Secret and Charicature. This gal is going to mature into one big, impressive mare who will have some great bone and feet. She has a wonderful disposition and will be ready to join the broodmare band in the spring. Blanca is homozygous LP with one copy of PATN1 so we expect loud appaloosa mules from this beautiful girl.  Nova produced a gorgeous sorrel appaloosa mule named June this spring.  She is currently open and we will be breeding her back to Judah spring 2019.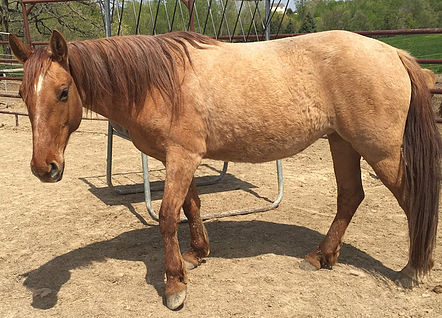 Twilight's Red Dun
"Rosie"
Registration: MFTHBA #10-96079
Breed: Missouri Fox Trotter
Sex: Mare
Date of Birth: 05/01/2010
Height: 14.1H
Color: Red Dun Roan
Color Genetics: e/e, a/a, D/n, Rn/n
Rosie has a sweet disposition and is well gaited. She is out of Gone N Dun It and Yankee's Patriotic Patty and has a wonderful set of papers. Notables include Southern Playboy and Bronze Pride with a strong influence of Tennessee Walking horse bloodlines from her dam's side.
Rosie is broke to ride and has been used as a reining and sorting horse. We're looking forward to getting some ride time on Rosie.  We purchased her and her gorgeous blue roan tobiano filly Bailey together.  We will be breeding Rosie to Judah spring 2019.  She's smaller in size, standing 14.1 hands.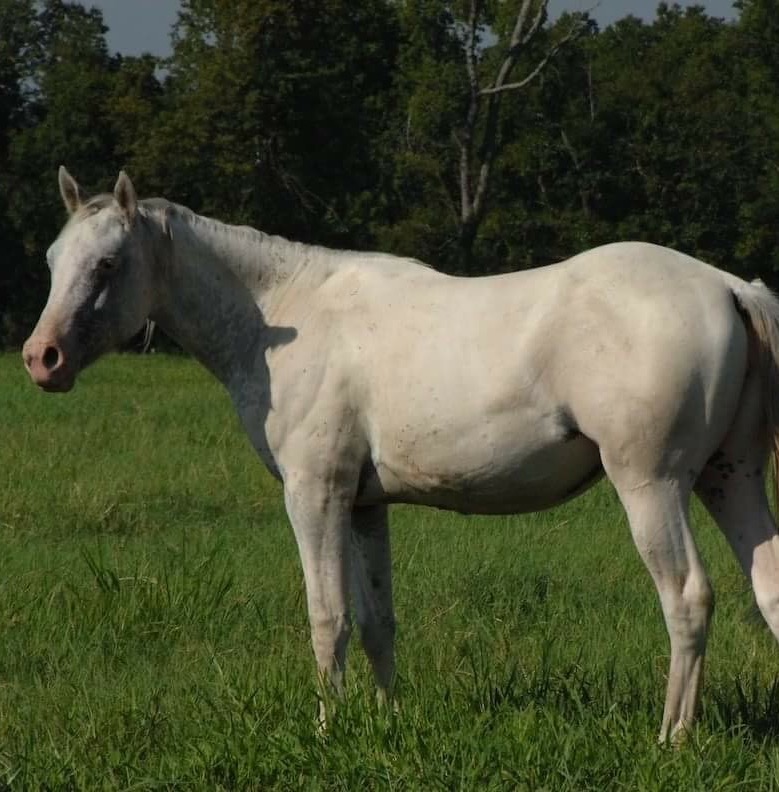 Snowkist Cloud "Luna"
You'd never know that under two copies of LP, this filly is a grulla leopard! This filly has been genetically tested (Ee aa LPLP PATN1/n Dd). What an outstanding, unique individual, not to mention a phenomenal color producer! Snowkist Cloud AKA: "Snowy" has matured into a big, big quality mare. At 97% foundation, this filly goes back to a ton of wonderful, old breeding such as Prince Plaudit, Mighty Bright, Deacons Bonanaza, Might Peavy and Mighty Rustler. Just like her dam, Luna will be a powerhouse producer and we expect loud appaloosa mules from this beautiful girl. She has been confirmed in foal to Judah for a summer 2019 mule foal.
SureLuck's "April" Flower
This filly is our dream girl. She is a bay tobiano Missouri Fox Trotter from excellent bloodlines. She is the calmest sweetest filly we have ever met and was raised by
TXMFT.com
.  She was imprinted at birth and has been exposed to absolutely everything.  The farm where she was bred also breeds exotic animals so she is used to zebras, African plains game, and tortoises to name a few!   We cannot find a thing that scares this girl!  She is already 14.2hh at two years old and we will be waiting until she is three to breed her and ride her.     She moves beautifully and gaits everywhere she goes.   She is out of Baron's Gold "Dolly" who is one of her breeder's favorite all time horses. Kirsten says she's put her dam up against any horse in the world for smoothness. Her dam does not have a bump in ANY of her gaits. Dolly is a dream to ride, neck-reins perfectly, learned to work cows a week before the World Championship in MO and won 
2013 top 5 in the world AM cutting, 4th open roping, 3rd AM roping, top 10 open ranch pleasure, top 10 AM ranch pleasure, top 10 open ranch versatility, top
5 AM
ranch versatility, top 10 open ranch conformation, 4th in the World Overall High Point Ranch Horse World Grand Championship.
 April was born very long-legged and is out of their famous homozygous tobiano stud Tucker, so will most likely be TALL as he throws colts that often mature over 16hh. April is not for sale at this time as she is part of our breeding program.  We affectionately call this mare Sweet Pea and she always will come greet you in the field and give you kisses.  You can almost always find her hanging out with her best friend Freya.  We have started her under saddle and found her to be very calm, willing, and easy to work with as well as smooth.  Her mane is stunning, as is her color, and conformation.  She produced a stunning bay homozygous tobiano fox trotter stud colt out of D.M. Cherokee Witch Doctor, a 16.1hh homozygous tobiano Missouri Fox Trotter stud for a 2018 foal.  We are retaining her stud colt Thunder for our breeding program and he will be standing at WEE starting 2021 to outside mares.  April was bred to Judah this year and has been confirmed in foal for a summer 2019 mule foal.
Fiona
Fiona was our first mare after several years of not owning horses.  During this hiatus I was still riding and training other people's horses and mules.  I had heard there was a mare available belonging to a local vet that wasn't getting used and she was still fairly green and spunky.  The vet had two horses they rode regularly and Fiona was a fat pasture ornament.  I went to look at her and I fell in love with her immediately.  She looked like the offspring of my grey quarter horse mare I competed with for several years and the grey Percheron mare Lucy belonging to the my vaulting team.  Since they were both mares obviously this isn't possible, but my guess as to her breed would be a Quarter Horse/ Percheron.    If you take one look at her feet and I know you will agree she is part draft horse.  She is also very cowy hence my guess of Quarter Horse.  She was purchased at an auction before being traded to the vet so little else is known about her history.  Fiona is 15.2hh and built like a brick house.  She's mighty-mighty, just lettin' it all hang out!
Fiona is built like a medieval jousting mount but manages to be incredibly athletic and lovely at the same time.  She is the horse everyone else in the herd can't do without and she is on the top of the mare pecking order.  Everywhere we've boarded her before purchasing the ranch she left a trail of broken hearts behind her.  Geldings and mares alike became obsessed with being near her and all our mules are in love with her.   A particularly annoying gelding named Rambo went through a fence trying to get to her.   She is also an extremely easty keeper and gains weight just looking at hay.
After years of regular use and training Fiona has become the most versatile horse we have.  I've trained her to jump, she is touch control and you can open any gate from her, and put her body anywhere you want her.  She rides very well bareback, Western, English, in a halter, and even without tack.  She is a great pack horse because she is incredibly powerful and will go anywhere you ask her to.  She is great for training horses and mules to pony as nothing bothers her and she is strong enough to drag the most stubborn animal.  She is also great for training colts, running down animals that don't want to be caught, and teaching friends how to post the trot as her big trot makes you post.  She is the rare combination of having great gas and great brakes.
Two years ago Fiona produced a gorgeous sorrel mule colt with a flaxen mane and a star.  This year we bred her to Judah and she has been confirmed in foal for a spring 2019 mule foal.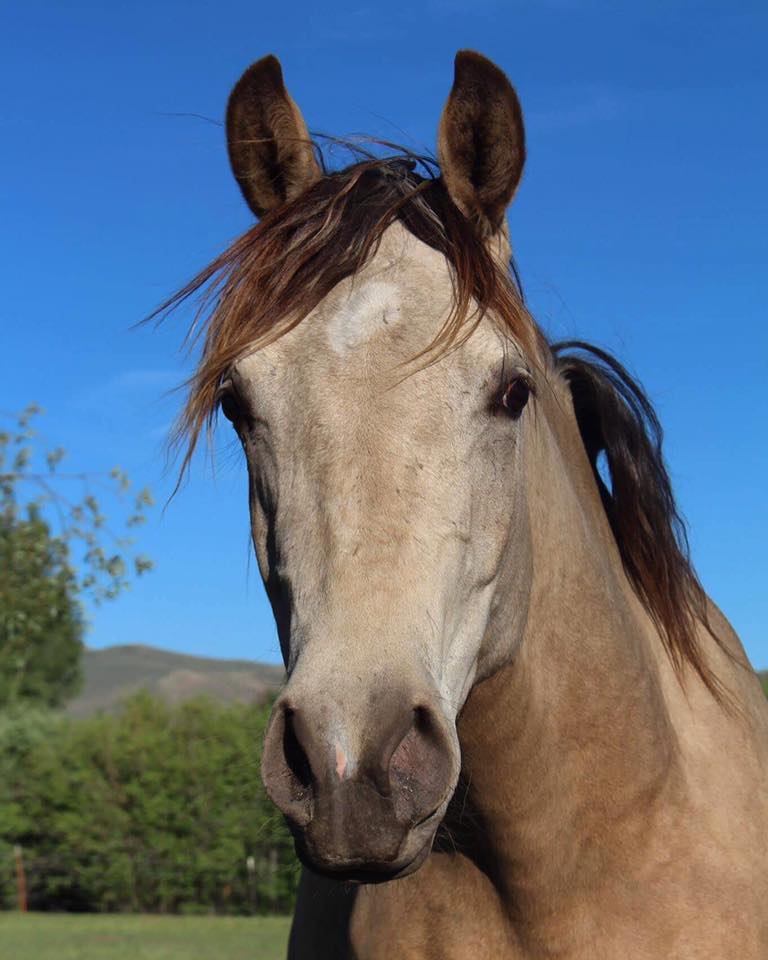 Freya

Freya is the first filly born on the ranch and she is extremely special to us. She is a Rocky Mountain horse and color tested EeAanZ which makes her a very rare silver buckskin. She was born 05/09/2015, was imprinted at birth, and has been handled almost daily since. Her Dam Crimson Skye is a stunning mare and her Sire Comet's Total Image is a gorgeous palomino stud residing at Hart Mountain Horses where we purchased Skye and Cinder. Freya is Skye's first foal and truly the perfect filly. We have started training her under saddle and found her to be very calm and willing.  Freya is tolerant of just about everything from tarps, to spray bottles, clippers, and grooming. She adores people, she is naturally gaited, and her color and conformation are absolutely to die for. She is already 15hh and will likely grow more. She is a solid filly with great feet, an excellent mind, and the sweetest personality. She is everything you could want in a young Rocky Mountain filly and more.  He bloodlines are excellent containing such notable names as Tobe, Sudden Impact, Dock, and Buddy Roe just to name a few! Freya is our pride and joy!  We bred her to Judah this year and she has been confirmed in foal for a spring 2019 mule foal.