Every year we carefully choose the best possible project mules to finish and sell to our clients.  We never just buy and flip these mules.  Instead we hand select mules with gentle dispositions that truly love people and only need additional time, and training to make them exceptional.  We fall in love with every animal that comes to the ranch and we are very selective about the people we sell them too.  We are looking for forever homes for exceptional animals and we offer a 30 day guaranteed on every animal we sell.  If they don't work bring them back and we will find you one that will.  We also specialize in finding the right mules for our clients.  If you do not see what you are looking for just contact us and let us know what you are looking for!  Furthermore we breed mules so please check out our colts page to see what is available. We list current breedings under our mares page.  For spring 2017 we are very excited for our Olan baby out of our beautiful grey mare Fiona.  We will also be offering gaited mammoth jack services starting in 2017 so you can make your own  mule from your mare or one of ours!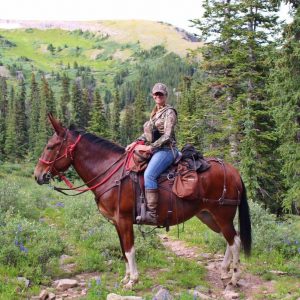 Penny – In training and will be available in the near future

Penny is 16.2hh and 11 years old. This big stunning rich mahogany bay mule with lovely white stockings is as flashy and beautiful as they come. In the summer she shines like a new penny and she is built like a brick house. Not only is she drop dead gorgeous, but she's a sweetheart as well. Before coming to us she had been trail ridden in groups, and she hadn't been ridden solo or had much for formal training. She is progressing quickly with her training. She has gotten a lot better on riding out alone and she is starting to pick up neck reining. She has also made excellent progress at ground work, manners, and controlling her feet. When we brought her home, she liked to back up to people for butt scratches. We were very glad that her owner warned us about that because it was probably cute before she got so big. Every time we went into the pasture she would approach us butt first for scratches but luckily she comes head first now. She is great with her ears, easy to catch, and very friendly. She crosses water easily, she is sure footed in the mountains, and She loves attention and praise. We purchased Penny with her buddy Socks and they will likely both be listed for sale in the spring. She will be appropriate for an intermediate adult rider as she is a big strong girl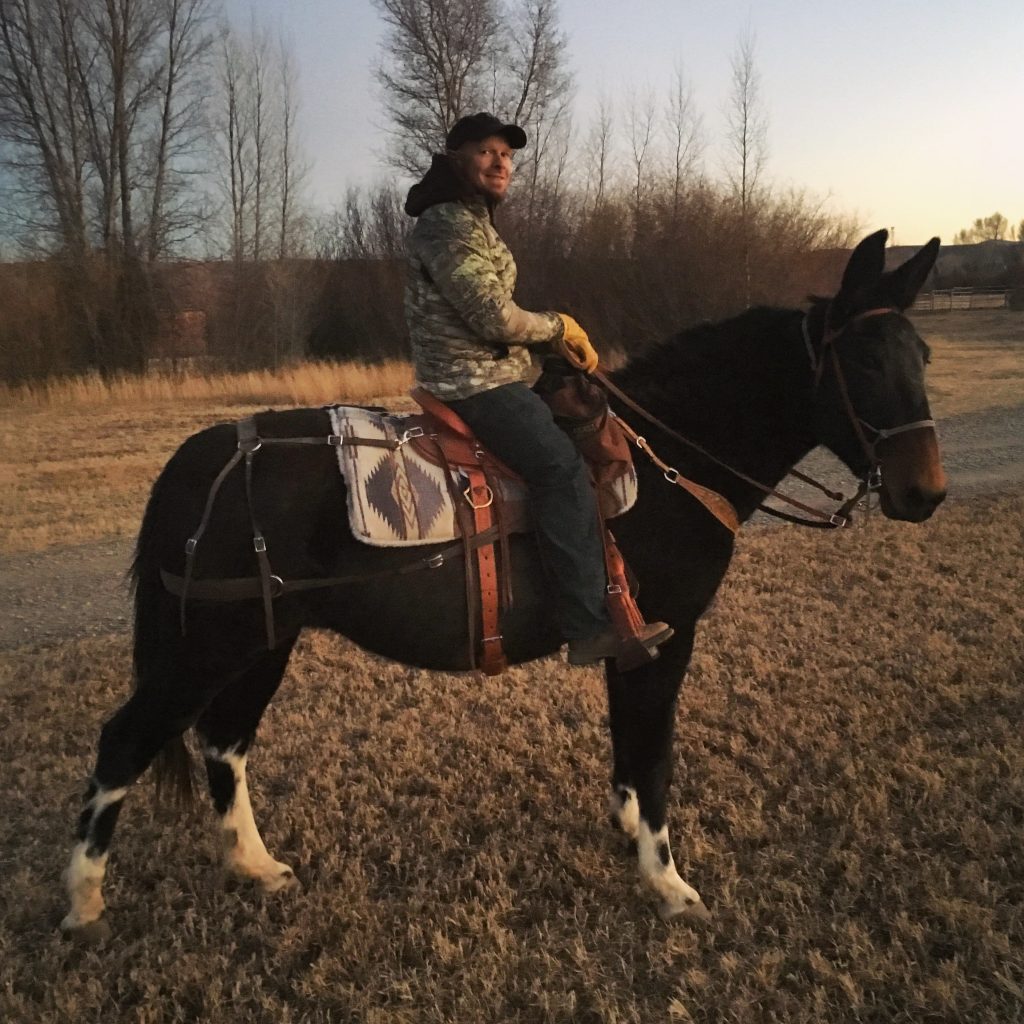 Socks – In training and will be available in the near future

Socks is 11 years old and 15.3hh lovely black moly mule with spotted white stockings.  She is one of the sweetest animals on the ranch and she loves people and attention.  She is a long-legged beauty and she has a nice easy-going disposition.  Everyone that meets socks loves her.  She is very smooth riding and she is eager to please.  Like Penny she was trail ridden in groups and did not have much formal training.  She is progressing quickly, and she is truly a joy to ride.  She gets along great with everyone including our rescue standard donkey Poncho.  Poncho may be less than half her size but he pushes her around.  There is not a mean bone in this girl's body and she is going to be an exceptional mule.
Waylon – In training and will be available in the near future

Waylon is a truly unique and beautiful 10 year old 15.1hh appaloosa john mule.  He is super calm and took to mule back falconry in not time.  We had him out hunting with our hawk within a day of training him which is unheard of.  Most animals take some time to get used to a large bird of prey flying straight at them and landing on their rider.  He is an incredibly easy-going guy that is not scared of anything.  He currently is learning to neck and we are developing his handle.  He is great with his feet, ears, and is easy to catch most of the time.   Ranch manager Paul has fallen in love with this guy so we may not be listing him for sale.  There is a high probability he will end up as Paul's personal riding mule.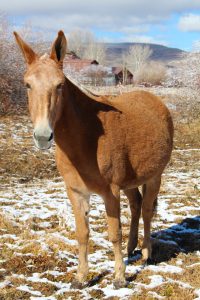 Daisy – In training and will be available in the near future

Daisy is 10 years old and 14.3hh.  She is a lovely palomino mule with a very white mane.  She is the perfect size for easy mounting but not too small to carry most any rider.  She is a sweet curious girl that really loves attention.  We picked her up this fall with l the appaloosa mule, and out rescue mammoth donkey Gus.  We will be posting more as we get to know this beautiful girl and put miles on her.  So far we have found her to be a smooth fun ride.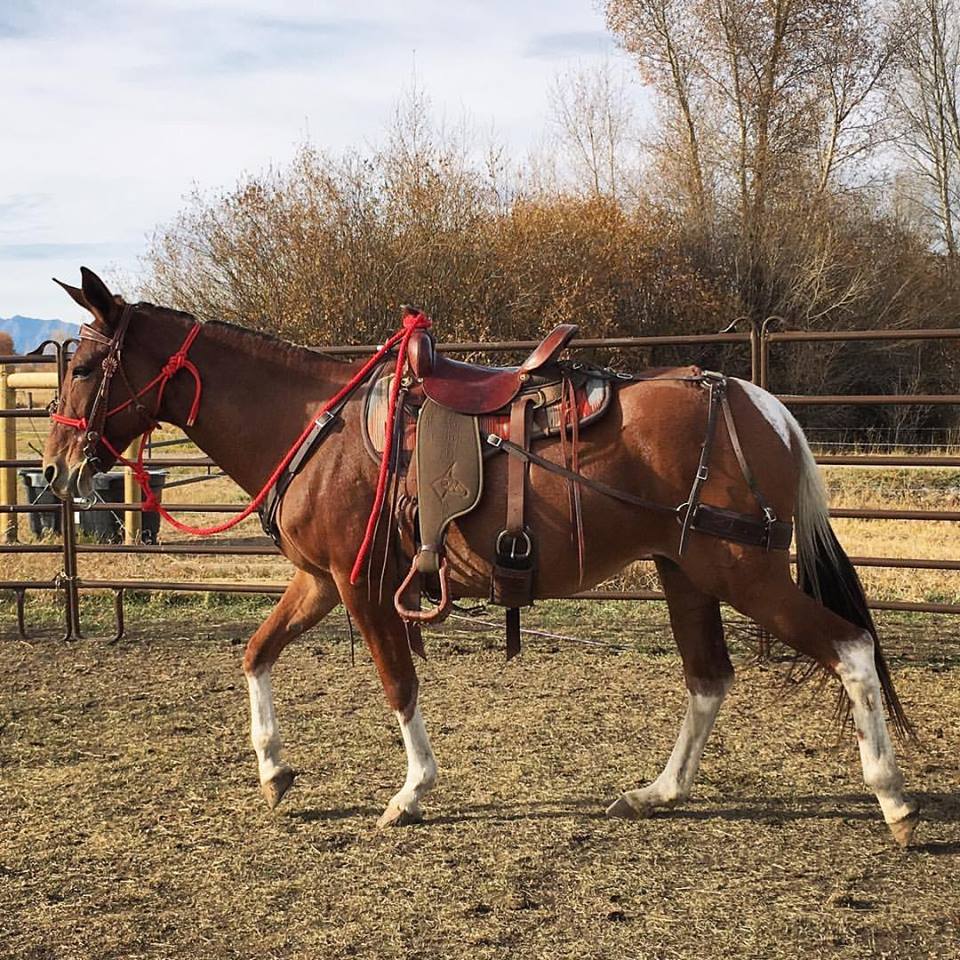 Ruby

Ruby is a 9 year old 15hh stunning sorrel mule with white stockings, an dun stripe down her back, white on her tail, and lots of chrome. She is touch control, has a one rein neck rein, she has a great motor, great brakes, and a nice disposition. She is good with her ears, and good for the farrier. She backs up very well, has a nice lope, and very smooth trot. Her color and conformation are to die for and she is not spooky. She has been used to work cattle, trail rides beautifully, packs, and crosses water. She is the type of mule that generally makes you walk after her for a couple minutes before being caught but we would definitely not classify her as difficult to catch.

She does have a minor coronary band injury that causes one hoof to grow thicker below the injury. She will always have a crack there and because of this she needs regular hoof trimmings and care. We spoke with her original owner and he said this was caused by a barbed wire injury when she was young and had never caused any lameness. Both her veterinarian and farrier agree that with regular hoof maintenance this injury will not cause any lameness and will be cosmetic.

We initially sold her to a family with kids and she was not a good fit for them as she took advantage of the kids by testing her boundaries and trying to get away with doing things her way. She was great for the adults and she is the kind of mule that does best when she is ridden regularly. Because of this Ruby should be with an intermediate or advanced adult rider. With her lovely handle and experienced rider will enjoy this mule much more than a beginner anyway. Even after 6 months post purchase we agreed to trade them another mule that would be a better fit for them. That is how committed we are to our animals and our clients. She will be listed for sale after her tune up. You may call us for her in training pricing.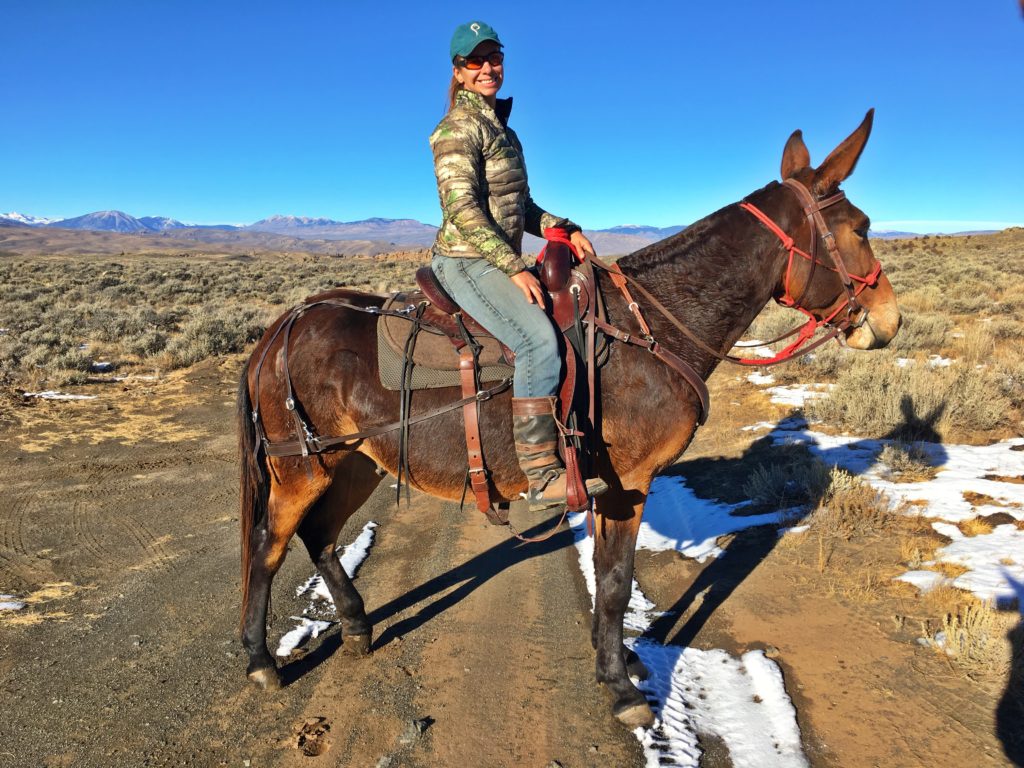 Wonder AKA Mongo- Sold to the Patterson Family In California

Wonder is a stunning 5 year old bay john mule out of Lake Nowhere's mammoth gaited jack Genesis and a Percheron/ Tennessee Walker mare.  In 2010, Lake Nowhere Mule and Donkey Farm decided to concentrate on the preservation of the American Mammoth Jackstock breed, and limit mule production to outside mares. A herd of weanlings were being watched over by an outstanding mule-mama, Madge – a TWH/Percheron cross mare. Madge has always been an easy keeper, and stays 'fat as a tick', on air it seems, so when people started asking if she was bred, the answer was always, "Ha, ha…nope, that is just Madge, fat as a tick. She has not been with Genesis." Then it happened: one morning, leading the weanling herd up for breakfast was Madge, with a newborn foal running by her side. Apparently Madge and Genesis have no appreciation of high tensile hot wire. Needless to say, although the baby was our first unexpected baby, he was amazing. How could his name be anything but, "Wonder", as in, "I wonder how the hell that happened?"
He was raised like the rest of the babies, lead/load/stand for the farrier, etc. by the time he was weaned, and went to an amazing home in Pennsylvania when he was 5 months old. Five years later, we had the opportunity to purchase him and start him under saddle. He is an outstanding young mule who will go far, and make everyone proud.  Wonder is gaited and 16.2hh.  He was imprinted at birth, handled extensively, and he is super friendly, and he is in your pocket.  He is the easiest mule to catch and loves people.  His build, conformation, height, and disposition are exceptional.  We have started him under saddle and have never had an easier time starting a mule.  We started him bareback and in a halter at elk camp and he never offered to buck, bolt, or rear.  He was fantastic packing this elk season and had quickly learned everything we've asked him while maintaining a great attitude.  He has been high-lined, hobbled, crossed water, and has been exposed to wildlife, gunfire, and machinery.  He has truly been a joy to train and he has lovely smooth gaits.  Five years old is a great age to start a mule as there body and mind are much more mature than the typical ages these animals are started.  He is already proving to be calm, a quick study, and very willing to learn.  He is doing very well under saddle.  Check out our facebook page for lots of training videos, photos, and updates.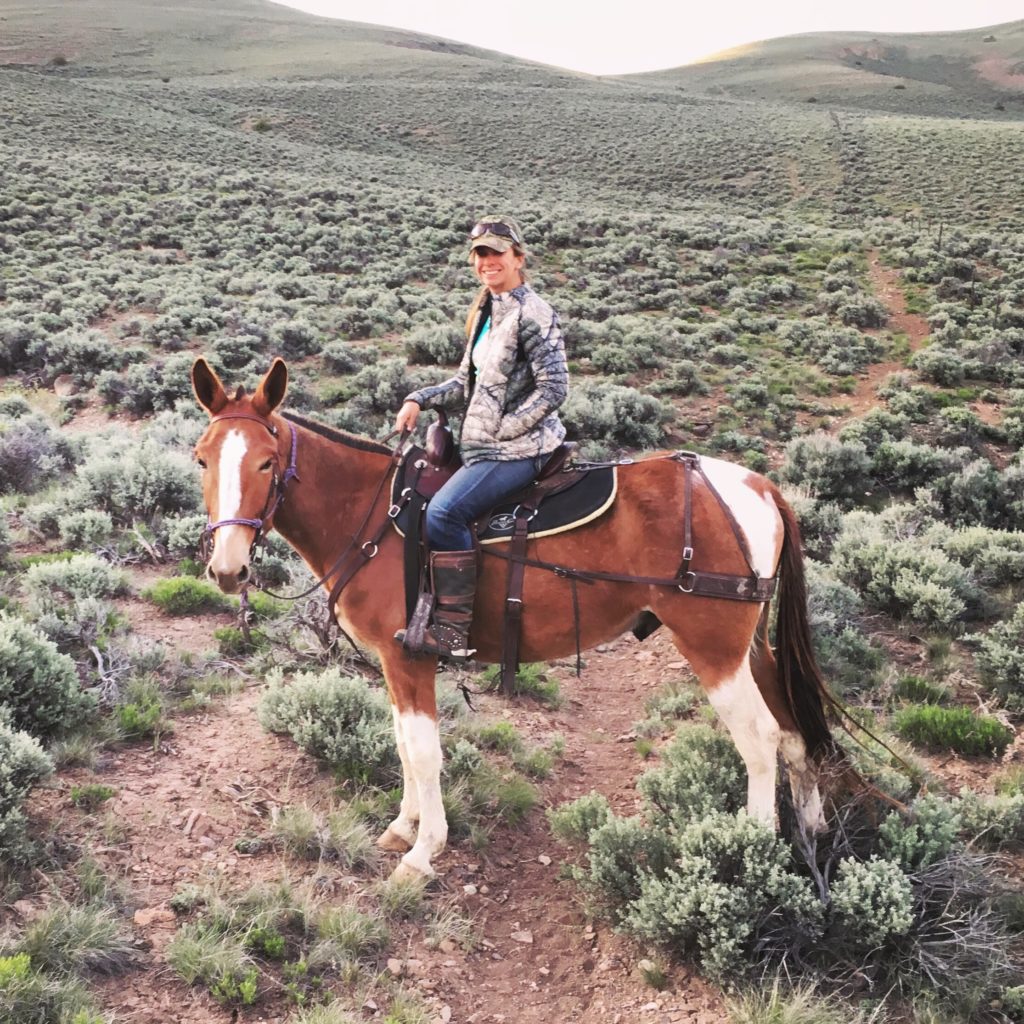 Samule AKA Moose – Sold to the Spring Family in Colorado


Samule is a stunning 16hh gaited john mule out of Missouri Mule Company's
Jack Missouri Traveler MYASS
and a 16hh beautifully gaited tobiano Tennessee Walker mare. He is 4 years old, he is a gentle giant, and the friendliest guy you'll ever meet. Samule will meet you at the gate, he is easy to groom, picks up his feet nicely, saddles easily, bathes well, and absolutely loves people. His personality will always keep to smiling and laughing. He is a big lovable guy!!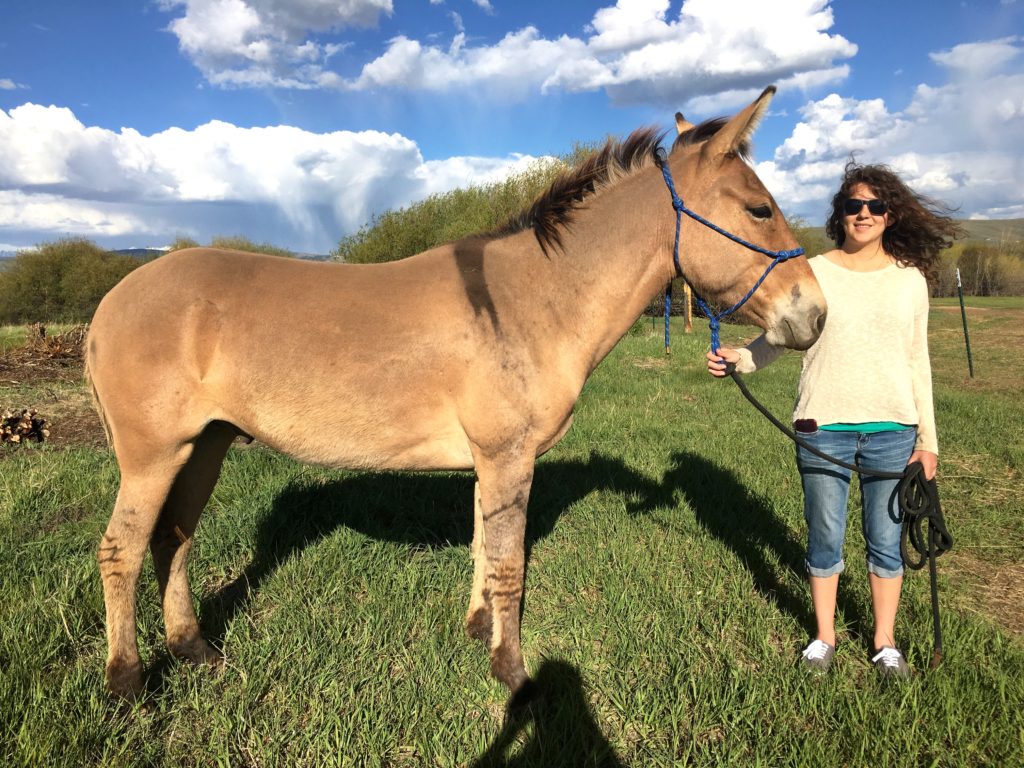 Turbo -SOLD to the Parker family in Arizona!


Turbo is one of the friendliest mules you'll ever meet.  He has a puppy dog personality and is more disappointed to not get caught when we leave him behind than any mule I've ever worked with.  He really loves to go on adventures and be around people.  He is also remarkably calm and nothing seems to bother him.  He's never offered to kick, bite, or even buck during round pen sessions.  Bred by Five Mile Farm this stunning 5 year old dun mule comes from champion bloodlines. He is the last colt out of champion jack Jethro who sired 4 National Halter Champions – 2 Mules & 2 Donkeys. His dam is a working cow horse and a registered quarter horse.  He's 15.1hh, with a nice stocky build, and the sweetest disposition, and his color and markings are to die for.  Everyone thinks he is part zebra!  He tail is very nice as well, he just lost a hunk while being shipped but is is growing back quickly.  He is almost pink in color in the summer and his dun factor is out of this world!  He truly loves people and runs to meet you at the gate.  Turbo was in a pasture for his first 5 years when we purchased him but 5 is truly the ideal time to start a mule and he has been incredibly calm and easy to work with.  He received a lot of human interaction but just wasn't started under saddle.  He saddles calmly, will stand calmly while groomed, and picks up all his feet well.  We have ponied him for miles and nothing bothers this boy!  He hasn't spooked once, not even on busy roads.  He ponies beautifully and we e have put his first rides on him now with no drama.  I expect him  to be green broke by late summer.  I (Katherine Grand) will be riding him in Ty Evans mule clinic in July and we will be taking him into the high country soon.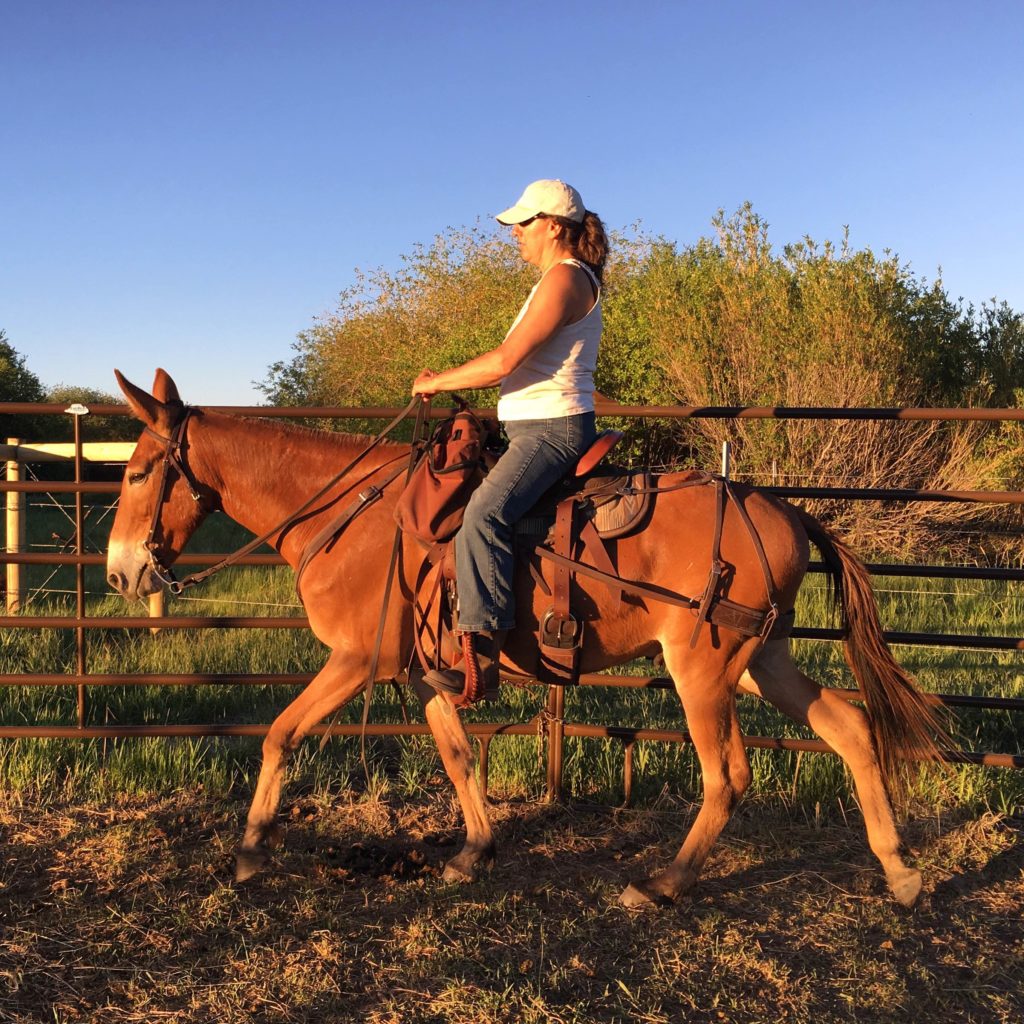 Walter- SOLD to the Marshall Family in Colorado!

This gentle 15hh sorrel mule has a lovely ground covering walk, the smoothest trot we've ridden, and a lovely lope.  He is not gaited but rides smoother than many gaited mules we've ridden.  He came to us with little muscle tone but he is quickly filling out and looking gorgeous.,  His soft sweet eyes match his personality and he is adjusting very quickly to Colorado.  This Texas country boy loves pets, treats, and is jealous in the cutest possible way.  He hates it when people are giving the other mules attention and wants all the love for himself.  He is a joy to ride, very sure footed, and learns extremely quickly.  He is approximately 7 years old and we are working with him on being less sensitive about his feet being picked up, exposing him to Colorado terrain and animals, and getting him more supple.  Walter is an awesome mule and has been sold to some local clients.  Let us know how we can help you find the mule or horse of your dreams.