Every year we carefully choose the best possible project mules and donkeys to finish and sell to our clients.  We never just buy and flip animals.  Instead we hand select mules and donkeys with gentle dispositions that truly love people and only need additional time, and training to make them exceptional.  We fall in love with every animal that comes to the ranch and we are very selective about the people we sell them too.  We are looking for forever homes for exceptional animals and we offer a 30 day guaranteed on every animal we sell.  If they don't work bring them back and we will find you one that will.  We also specialize in finding the right mules and donkeys for our clients.  If you do not see what you are looking for just contact us and let us know what you are looking for!  Furthermore we breed mules so please check out our colts page to see what is available. We list current breedings under our mares page.  For spring 2018 we are very excited for our Clyde's Gallant Fox out of our beautiful few spot appaloosa mare Nova.  We will are also offering gaited mammoth jack services so you can make your own  mule or donkey from your mares or jennets or one of ours!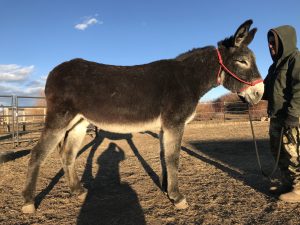 Lily- In Training
Lily is a lovely 14hh jennet and we purchased her to train her as a saddle donkey. We are working on training her and she is coming along quickly and nicely.  She is a beautiful blue roan donkey with a lovely face and she was the friendliest of the four donkeys we purchased together off the bat.  She is well put together and she has a nice solid build.  She was the oldest at 4 years old and she's a good age to start under saddle.  If our client opts not to buy her we will be listing he for sale after training.  We really love this sweet girl and she is a great saddle donkey prospect.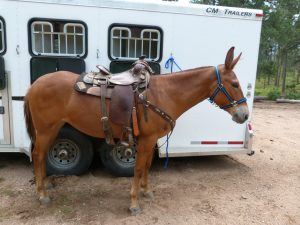 Cadillac Rose- Sold to the Chin Family in Colorado

14.3hh and very stout 9 year old red molly mule with a dun strip and shoulder cross. Rose's 77 year old owner passed away at the end of March and his wife of many years needed to sell her.  His wife Jackie who we bought her from is one of the most impressive woman we've met in a long timing having raced mules for years, done mule chariot racing, showing, and had multiple teams.  Visiting with her and looking at her pictures was one of the best parts about finding Rose.  Rose has been on many trail rides in the Colorado mountains, and  ridden by a 77 year old grandpa. She has never been mistreated and is such a nice mule. She has not been ridden for a year when we checked her out and she needs a tune up and some foundation work as she was mostly trail ridden and did not have much formal training with an experienced rider.  She is simply gorgeous, she has a lovely disposition, and she will be listed for sale after training to the right home.  We promised Jackie she would go to an awesome forever home so we will be selective about who we sell her too.  We are always selective but this girl is extra special and deserves and extra special home.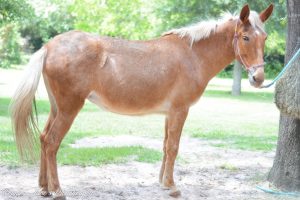 Wynnona- Sold to the Miles Family in Colorado

16hh 11 year old gaited palomino molly mule.  Wynonna is coming from a friend and fan of the ranch that wanted to see her used and go to a great home.  Our friend runs a rescue operation and with 22 animals and Wynonna was not being ridden regularly.  Wynonna was the animal they put their less experienced riders on.  Gwen says  "She is a wonderful girl if not somewhat opinionated at times and will take the occasional grass breaks on the trail from a less experienced rider. Other than that, her personality is a 10!!! She is also right at 16 hands and is gaited. Unfortunately we currently have 22 horses at our rescue and Wynonna is very under utilized."  Wynnona will be arriving at the ranch soon and we will be putting her through the paces and giving her a tune up.  This very special girl will only go to a perfect forever home.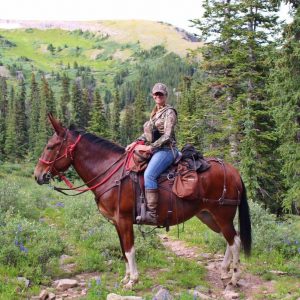 Penny – Sold to The Grosse Family in Colorado

Penny is 16.2hh and 11 years old. This big stunning rich mahogany bay mule with lovely white stockings is as flashy and beautiful as they come. In the summer she shines like a new penny and she is built like a brick house. Not only is she drop dead gorgeous, but she's a sweetheart as well. Before coming to us she had been trail ridden in groups, and she hadn't been ridden solo or had much for formal training. She is progressing quickly with her training. She has gotten a lot better on riding out alone and she is starting to pick up neck reining. She has also made excellent progress at ground work, manners, and controlling her feet. When we brought her home, she liked to back up to people for butt scratches. We were very glad that her owner warned us about that because it was probably cute before she got so big. Every time we went into the pasture she would approach us butt first for scratches but luckily she comes head first now. She is great with her ears, easy to catch, and very friendly. She crosses water easily, she is sure footed in the mountains, and she loves attention and praise.  She moves beautifully and has a great ground covering walk, smooth jog, a big extended trot, and a nice smooth canter.  She will be appropriate for an intermediate adult rider as she is a big strong girl.  She is not spooky and doesn't do anything dangerous but she is a mule and sometimes needs some kicking and steering to get her to go where you want if her opinion is different.  Price will increase with additional training.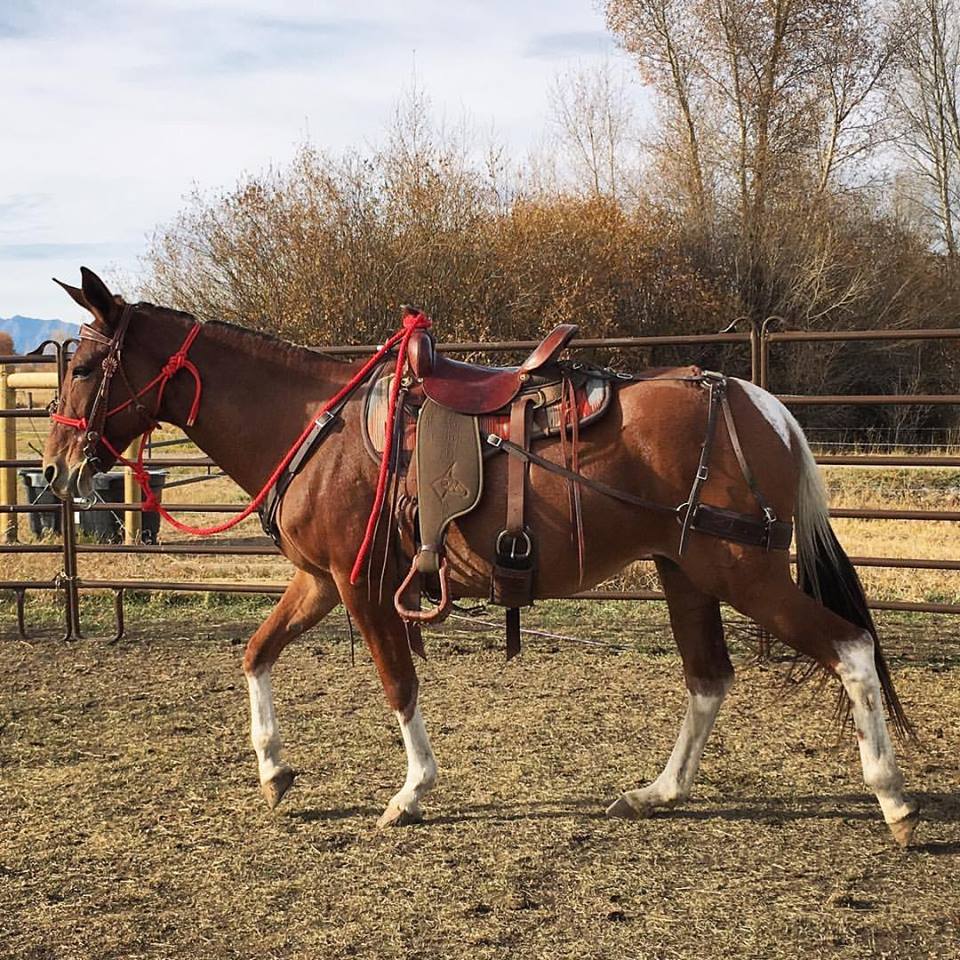 Ruby- SOLD to Julie Horsch and Dave Glenn in Wyoming

Ruby is a 9 year old 15hh stunning sorrel mule with white stockings, an dun stripe down her back, white on her tail, and lots of chrome. She is touch control, has a one rein neck rein, she has a great motor, great brakes, and a nice disposition. She is good with her ears, and good for the farrier. She backs up very well, has a nice lope, and very smooth trot. Her color and conformation are to die for. She has been used to work cattle, trail rides beautifully, packs, and crosses water. She is the type of mule that generally makes you walk after her for a couple minutes before being caught but we would definitely not classify her as difficult to catch.

She did have a minor coronary band injury that causes one hoof to grow thicker below the scar.   She will always grow a thicker hoof there and because regular hoof care is important. We spoke with her original owner and he said this was caused by a barbed wire injury when she was young and had never caused any lameness. Both her veterinarian and farrier agree that with regular hoof maintenance this injury will not cause any lameness and will be cosmetic.


We initially sold her to a family with kids and she was not a good fit for them as she took advantage of the kids by testing her boundaries and trying to get away with doing things her way. She was great for the adults and she has been great with all ability riders on her other than complete beginners. With her lovely handle and experienced rider will enjoy this mule much more than a beginner anyway. Even after 6 months post purchase we agreed to trade them another mule that would be a better fit for them. That is how committed we are to our animals and our clients.