These are the equine we have trained and sold in the past.  We fall in love with every equine that comes to the ranch and we are very selective in finding them the perfect forever homes.  We offer a 30 day guarantee on all our animals to make sure they are the right fit for our clients.  We only select mules, donkeys, and horses that are extremely high quality with excellent conformations and dispositions.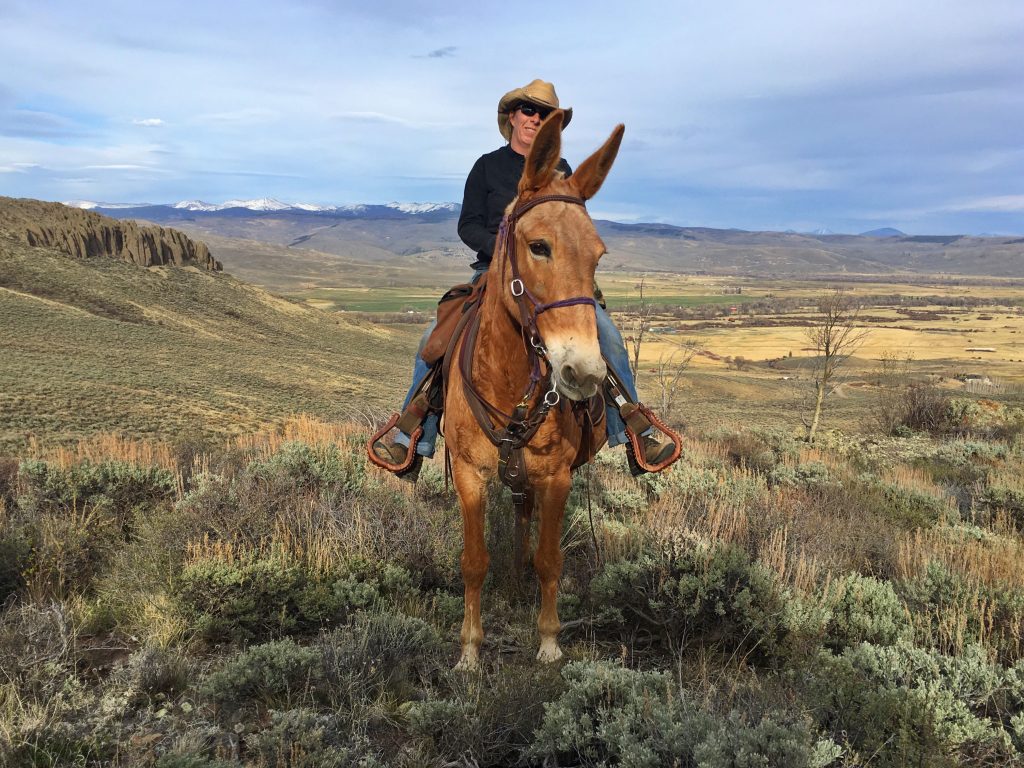 Daisy- Sold!
Daisy is 10 years old and 14.2hh.  She is a lovely palomino mule with a very white mane.  She is the perfect size for easy mounting but not too small to carry most rider.  She is a sweet curious girl that really loves attention.  She loves to go and is very responsive to her rider.  She is sure footed and very fun to ride.
Waylon – Sold to Ranch Manager Paul Coleman

Waylon is a truly unique and beautiful 10 year old 15.1hh appaloosa john mule.  He is super calm and took to muleback falconry in no time.  We had him out hunting with our hawk within a day of training him which is unheard of.  Most animals take some time to get used to a large bird of prey flying straight at them and landing on their rider.  He is an incredibly easy-going guy that is not scared of anything.    Ranch manager Paul has fallen in love with this guy and purchased him as his personal riding mule.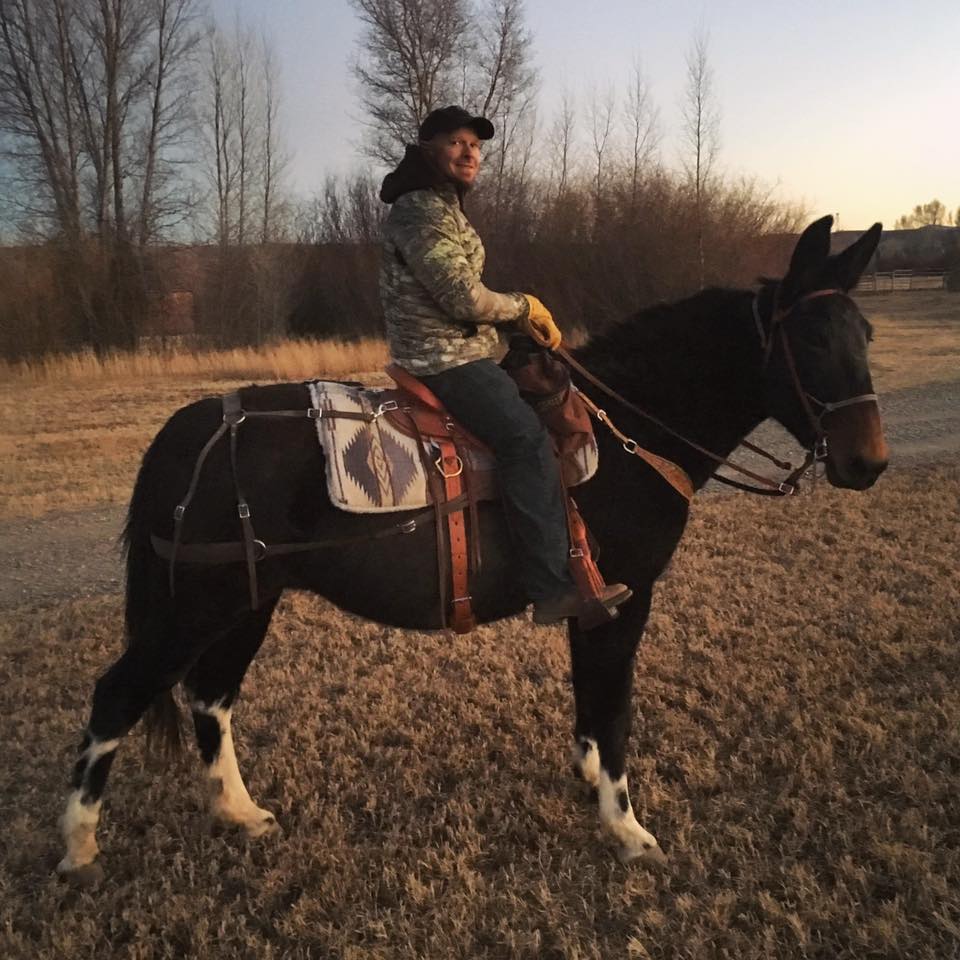 Socks – Sold to the Wilkerson Family

Socks is 11 years old and 15.3hh lovely black molly mule with spotted white stockings.  She is one of the sweetest animals on the ranch and she loves people and attention.  She is a long-legged beauty and she has a nice easy-going disposition.  Everyone that meets Socks loves her.  She is very smooth riding and she is eager to please.  Like Penny she was trail ridden in groups and did not have much formal training.  She is progressing quickly, and she is truly a joy to ride.  She gets along great with everyone including our rescue standard donkey Poncho.  Poncho may be less than half her size but he pushes her around.  There is not a mean bone in this girl's body and she is an exceptional mule.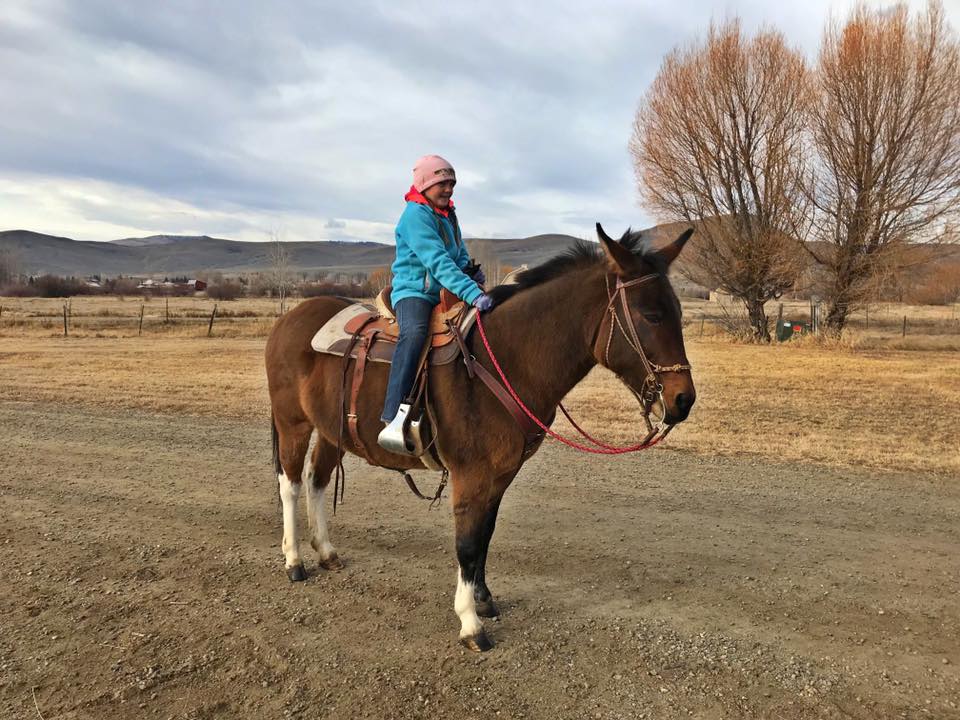 Alice- Sold to the Daugherty Family In Colorado
Alice is a gorgeous fun sized mule with the prettiest color and markings we have ever seen.  After training her and finding our she was for sale we jumped at the opportunity to buy this lovely little mule.  She is athletic, super fun to ride, one hand neck nein, and a lovely little lope.  Alice found her perfect home as Kate's personal mount with the Daugherty family.  The Daugherty family also purchased beautiful Jolene from us.  Kate will be showing Alice in 4H and has started jumping with her.  We can't wait to see how Kate does with her!
Mocha Joe- Sold to the Prentiss Family In Colorado
Mocha Joe is a solidly built 15.1hh 8 year old john mule with great feet. His conformation is awesome and he is a really nice looking mule. He is a dark chocolate color with a dun stripe, cross on his shoulders, and primitive striping. He is more chocolate in the winter and black in the summer. We hunted with him barefoot all archery season and his feet are great. He is easy to trim, good with his feet, and was recently floated. He is a solid pack mule and a good riding mule. When I got him he was noise sensitive but he has greatly improved. He still needs some more miles to be totally perfect under saddle but he is well on his way. He has not bucked, reared, or bolted. He is not yet a beginner mule but with more time he will be. An intermediate rider and someone who has mule experience should have zero issues with him. He has been ridden and packed all over the high country. He high lines, crosses water great, ponies very well, and he is a sweetheart. He is easy to catch and really loves people. .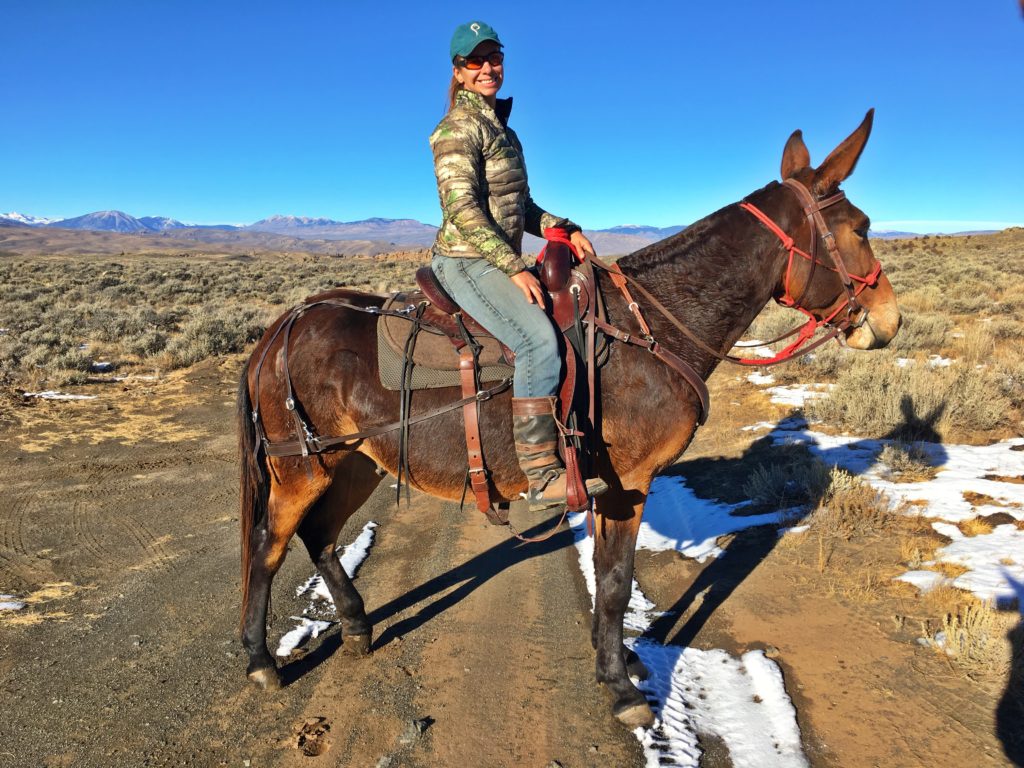 Wonder AKA Mongo- Sold to the Patterson Family In California
Wonder is a stunning 5 year old bay john mule out of Lake Nowhere's mammoth gaited jack Genesis and a Percheron/ Tennessee Walker mare.  He is an outstanding young mule who will go far, and make everyone proud.  Wonder is gaited and 16.2hh.  He was imprinted at birth, handled extensively, and he is super friendly, and he is in your pocket.  He is the easiest mule to catch and loves people.  His build, conformation, height, and disposition are exceptional.  We have started him under saddle and have never had an easier time starting a mule.  We started him bareback and in a halter at elk camp and he never offered to buck, bolt, or rear.  He was fantastic packing this elk season and had quickly learned everything we've asked him while maintaining a great attitude.  He has been high-lined, hobbled, crossed water, and has been exposed to wildlife, gunfire, and machinery.  He has truly been a joy to train and he has lovely smooth gaits.  Five years old is a great age to start a mule as there body and mind are much more mature than the typical ages these animals are started.  He is already proving to be calm, a quick study, and very willing to learn.  He is doing very well under saddle.  Check out our facebook page for lots of training videos, photos, and updates.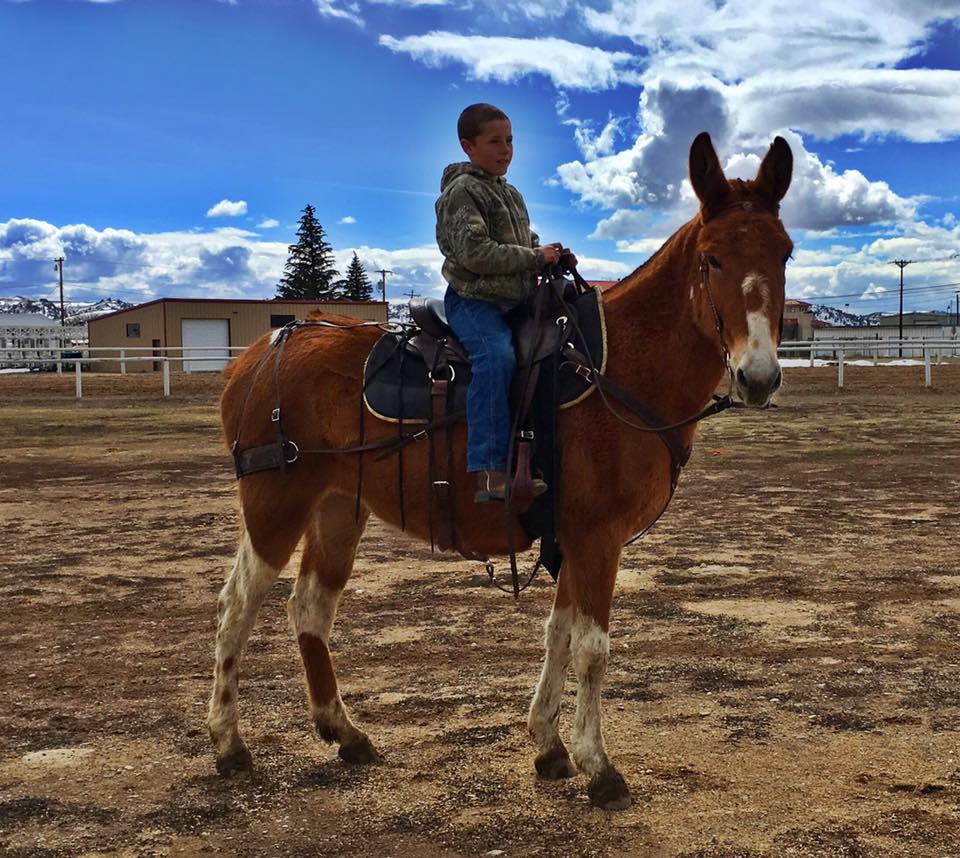 Jolene- Sold to the Daugherty Family In Colorado
Jolene is a 3 year old beautiful sorrel mule with dun factor and tons of chrome.  She was started right by a woman that loved her a took her time.  She is out of a Spotted Racking mare and is already 16hh at 3 years old.  She has a great mind and a loving goofy personality. She is great with clippers, her ears, feet and will even smile on command!  She is well started under saddle and is going to be an incredible mule.  Jolene was sold to a wonderful family that loves her to pieces!  The Daugherty family has two mules from West Elk Equine.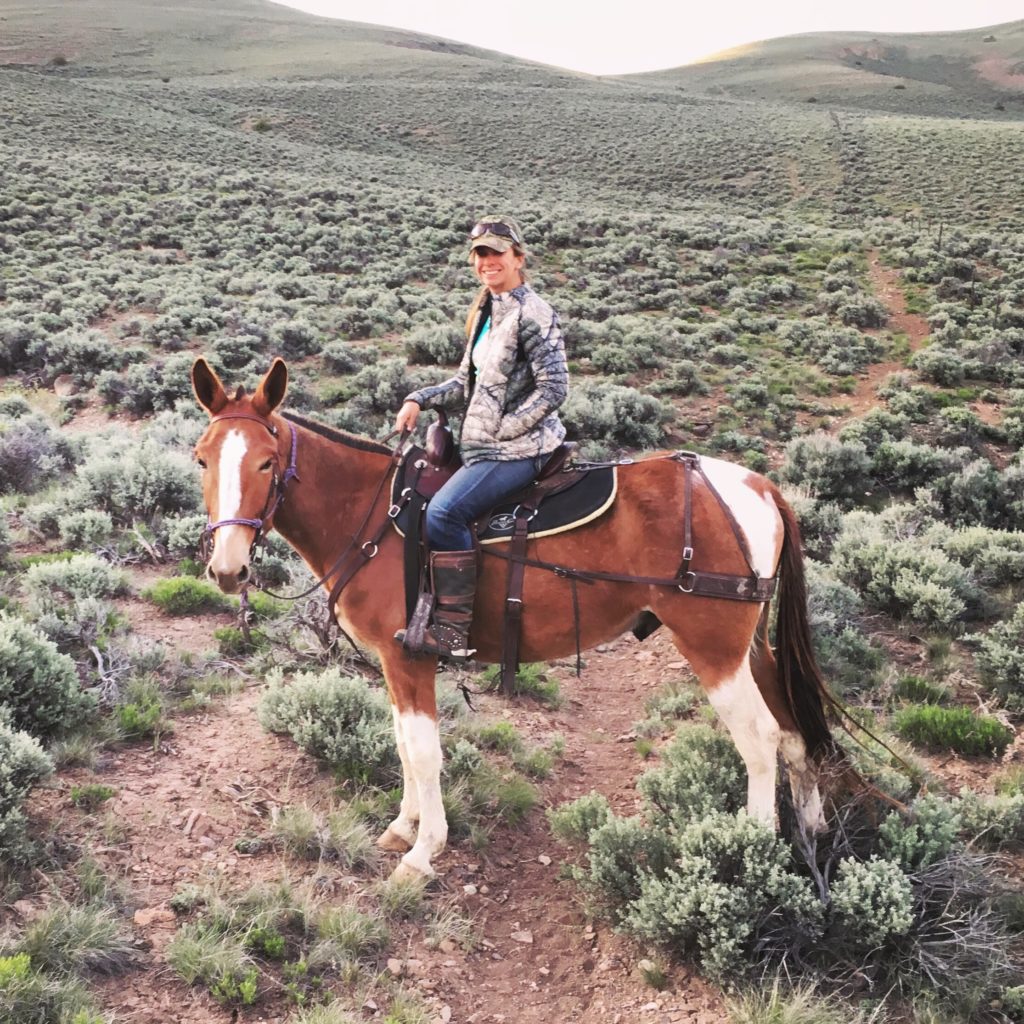 Samule AKA Moose – Sold to the Spring Family in Colorado
Samule is a stunning 16hh gaited john mule out of Missouri Mule Company's Jack Missouri Traveler MYASS and a 16hh beautifully gaited tobiano Tennessee Walker mare. He is 4 years old, he is a gentle giant, and the friendliest guy you'll ever meet. Samule will meet you at the gate, he is easy to groom, picks up his feet nicely, saddles easily, bathes well, and absolutely loves people. His personality will always keep to smiling and laughing. He is a big lovable guy!! He moves very well off leg pressure and neck reins. He is excellent in the mountains and very sure footed. He loads in trailers well and has no vices. He is a big young mule though so he'll need someone with some experience to keep him going on the great path he is on. He is very careful in rough terrain, crosses water beautifully, and he is not spooky. He disposition is awesome, he is a smooth and super fun ride, very sure footed, and one of the nicest looking mules we have seen, we love his height, and his color is phenomenal! He has a very nice smooth gait and is smooth at all speeds. This is one flashy mule and we get compliments everywhere we go with him! He has never offered to buck, bite, or kick and he loves his ears scratched. He is one of the few mules that we've know that really loves to go out on rides and gets vocal when he is left behind.  His price will increase with training.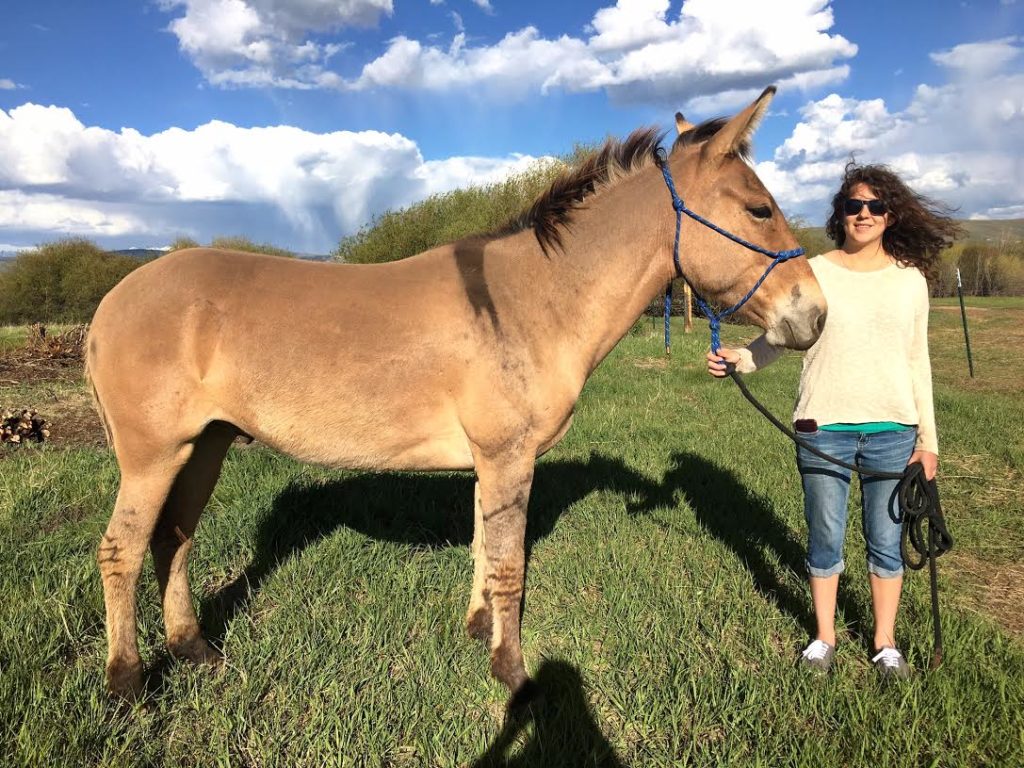 Turbo -SOLD to the Parker family in Arizona!
Turbo is one of the friendliest mules you'll ever meet.  He has a puppy dog personality and is more disappointed to not get caught when we leave him behind than any mule I've ever worked with.  He really loves to go on adventures and be around people.  He is also remarkably calm and nothing seems to bother him.  He's never offered to kick, bite, or even buck during round pen sessions.  Bred by Five Mile Farm this stunning 5 year old dun mule comes from champion bloodlines. He is the last colt out of champion jack Jethro who sired 4 National Halter Champions – 2 Mules & 2 Donkeys. His dam is a working cow horse and a registered quarter horse.  He's 15.1hh, with a nice stocky build, and the sweetest disposition, and his color and markings are to die for.  Everyone thinks he is part zebra!  He tail is very nice as well, he just lost a hunk while being shipped but is is growing back quickly.  He is almost pink in color in the summer and his dun factor is out of this world!  He truly loves people and runs to meet you at the gate.  Turbo was in a pasture for his first 5 years when we purchased him but 5 is truly the ideal time to start a mule and he has been incredibly calm and easy to work with.  He received a lot of human interaction but just wasn't started under saddle.  He saddles calmly, will stand calmly while groomed, and picks up all his feet well.  We have ponied him for miles and nothing bothers this boy!  He hasn't spooked once, not even on busy roads.  He ponies beautifully and we e have put his first rides on him now with no drama.  I expect him  to be green broke by late summer.  I (Katherine Grand) will be riding him in Ty Evans mule clinic in July and we will be taking him into the high country soon.